10 Things to Do Around LA This Weekend: January 31-February 2, 2014
Gary Baseman's latest, Scratch & Bite, debuted along with other feline images at the Cat Art Show.
Even if you aren't a die-hard NFL fan, you probably look forward to this Sunday – if not for the commercials then as an excuse to get together with friends, drink and eat party food. If you're not heading to the East Coast to root for the Seahawks or Broncos at Super Bowl XLVIII, there are several reasons to be happy you are staying in Los Angeles this weekend.
Friday, January 31
ART
Art Los Angeles Contemporary @ The Barker Hangar (Santa Monica)
You can see some of the best contemporary art in Los Angeles, as well as a select pieces from global artists and galleries, at the art fair. The fifth edition of ALAC offers an expanded international roster of artists and galleries, in addition to an impressive lineup from the City of Angels. Along with art from exhibitors like Night Gallery, Honor Fraser and Parisian Laundry, there are film screenings, book signings, lectures and performances happening through Sunday.
Cat Art Show @ 101/exhibit (6205 Santa Monica Blvd., Hollywood)
Catch the final days of this feline-focused art show that everyone was meowing about after its opening reception last weekend. From Shepard Fairey, Buff Monster and Gary Baseman to Mercedes Helnwein, Tim Biskup and Incubus' Brandon Boyd, artists interpret the role of cats as not only domesticated companions but as muses and inspirations. Even if you aren't a kitty lover, their renderings are sure to bring a smile to your face. Through Sunday afternoon.
BOOKS
L.A. Art Book Fair @ The Geffen Contemporary at MOCA (Downtown)
Who doesn't love sitting down with an art book or specialized zine to peruse pages and pages of beautiful images or thoughtful musings? Printed Matter's second annual event celebrates artists' books, art catalogs, monographs, periodicals and zines from over 250 international presses, booksellers, antiquarians, artists and indie publishers. Among the projects highlighted are Giant Robot, the Journal of Aesthetics and Protest and a Queer Zines Exhibit curated by Philip Aarons and AA Bronson. There are also the Classroom series of talks and lectures curated by David Senior, MOCAtv screenings and artist readings going on through Sunday.
MUSIC
Mayer Hawthorne @ Palladium (Hollywood)
The soulful L.A. singer-songwriter released his third studio album, Where Does This Door Go, over the summer, boasting some of the best tracks of his career thus far. Songs like "Her Favorite Song," "The Only One" and "Corsican Rosé" are so smooth, they can give the most timid a boost of bravado to ask the hottie standing over at the bar for a spin on the dance floor with just one listen. If you have yet to experience Mayer Hawthorne live, please go to this show. Although your feet will be sore from dancing all night, you will definitely thank me for all the fun you had.
Saturday, February 1
CULTURE
Chinese New Year Festival @ Chinatown
The Year of the Horse is said to be one of exuberance, so celebrate all that the year ahead holds in store at the oldest New Year spectacular in the country taking place through Sunday afternoon. The 115th Annual Golden Dragon Parade begins Saturday's festivities at 1 p.m. with floats, dancers and bands streaming down the streets, led by this year's Grand Marshal, Mayor Eric Garcetti. After the parade, enjoy cultural performances and workshops, traditional and gourmet street food, craft beer fem Eagle Rock Brewery and a live music stage curated by Buzz Bands LA's Kevin Bronson with local acts like the Happy Hollows and Raw Geronimo.
Reggae in the Barrio Festival II @ The Vex Arts Center (El Sereno)
This all-day event celebrates Reggae roots and culture through live music, arts and crafts, DJ sets and overall positivity. Performers include Quinto Sol with Alika, the Simpkin Project, Arise Roots and Sure Shot Rockers, among others, while the festivities are emceed by Junior Francis and Jah Faith. Additionally, there are art exhibits, local vendors and plenty of food trucks to keep you fueled throughout the day and into the evening.
FILM
Edward Scissorhands @ Electric Dusk Drive-In (Downtown)
I actually saw Tim Burton's 1990 beautifully dark tale for the first time at a drive-in. It's crazy that the film was released 24 years ago, but the story of the artificial man with scissors for hands (played by Johnny Depp), who falls in love with teenaged Kim (Winona Ryder) and captivates the suburban community in which she lives, is timeless. With a score by Danny Elfman and supporting performances from Dianne Wiest, Kathy Baker, Vincent Price and Alan Arkin, Edward Scissorhands is sure to be beloved for 20 more years, and beyond.
MUSIC
Japanther @ The Lyric Theatre (Hancock Park)
Since meeting at the Pratt Institute circa 2001, Ian Vanek and Matt Reilly have made a habit of being unconventional. If the title of their latest album (Eat Like Lisa, Act Like Bart) doesn't doesn't make you smile, then you probably shouldn't give them a try. Their high-speed, punk-infused melodies are guaranteed to have you dancing around the room, shedding all inhibitions. Their live shows are just as invigorating, so make sure to check them out tonight.
Johnathan Rice @ Bootleg Bar (Westlake)
Last year, the L.A. singer-songwriter released his third solo album, Good Graces, his first work since putting out the critically lauded I'm Having Fun Now album under the moniker of Jenny & Johnny with Jenny Lewis. He also collaborates with Lewis on the score for Song One, which stars Anne Hathaway and Johnny Flynn and just premiered at Sundance. Lewis also appears on Good Graces, along with Z Berg, the Watson Twins, Farmer Dave Scher and Chad Marshall, so it's safe to assume at least one of the guests will make an appearance for a song tonight at Bootleg.
Sunday, February 2
ART
Fútbol: The Beautiful Game @ LACMA (Miracle Mile)
While American football celebrates its two top teams today, fútbol fans still have a few more months until the 2014 FIFA World Cup kicks off in Brazil. Never fear, though, soccer lovers. LACMA has something to help pass the time, a new exhibit that examines the sport and its influence on nationalism, globalism and the common human experience through video, photography, painting and sculpture from around 30 international artists. Works from Miguel Calderon, Robin Rhode, Kehinde Wiley and Andy Warhol are just a few of the stunning pieces to take in as the exhibit runs through July 20.
Video Slider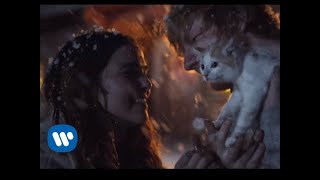 Win Tickets to See Ed Sheeran at the Rose Bowl
Ed Sheeran is back in Los Angeles, and your chance to see him perform is at the Rose Bowl in Pasadena on Saturday, Aug. 18. We are giving away complimentary tickets to the show. For a chance to enter to win, email us at info@lol-la.com with "Ed Sheeran" in the subject line and tell us why you would like to go.