20 Things To Do Around L.A. on Valentine's Day 2015
The Red Room of Pain from iPic Theaters
Valentine's Day is fast approaching, and whether you have a significant other or are planning to spend the night celebrating with your best friends, there's no better place to spend the holiday than Los Angeles.
If you're having a hard time planning a romantic evening, just focus on getting a card and/or gift, we have you covered with 20 things to do and places to visit.
Heritage Fine Wines
From Feb. 7 to 14, Heritage Fine Wines will be offering a special on tasting pairings for Valentine's Day. You can purchase one glass of wine and two candies for $19.99. Options include champagne and Calisson from Provence. Pinot Noir Burgundy and Raw Chocolate with walnuts and cashews as well as Bordeaux and Raw Chocolate with hazelnuts. Three different Valentine's Day baskets with the same pairings will be available for $99.99. www.heritagebeverlyhills.com
iPic Theaters
For the entire month of February, you can partake in the offering of having a special cocktail and dessert ordered directly to your seat. The cocktail Red Room of Pain, $13, is made with red rum, red jalapeños, blood orange, homemade ginger beer, and red rose petals is the perfect drink for those coming to see 50 Shades of Grey. For dessert, guests can order Banana's Over You, a chocolate caramel tart, caramelized bananas with a glass of Prosecco for $12. www.ipictheaters.com
Breakfast at Tiffany's at The Los Angeles Theater
Perfect for Valentine's Day, come watch a screening of the classic film. Rarely open to the public, enjoy the soaring ceilings, divine chandeliers, and wander through the ballroom. Before the screening, sip champagne and enjoy the breath taking atmosphere. There will be a Cinespia photo booth downstairs. Jacket and tie are required for men, evening wear for women. The screening is 21+ event and features five full bars. 615 S. Broadway, Los Angeles. http://cinespia.org/event/breakfast-tiffanys/
Tanzy
Enjoy a romantic Italian 3-course menu for $89, includes half bottle of wine. Feast on the liberty valley crispy duck leg, pan-seared day boat scallops, and candied hazelnuts, among various other menu options. Limited A La Carte menu is also available. 10840 Wilshire Blvd. Los Angeles. (310) 307-7004. http://www.tanzyrestaurant.com/westwood
Now Boarding
Take a trip back to the sixties at the chic bar. Hosting a Mile High Valentine's Party, the bar will feature DJ As-Is providing guests with the perfect soundtrack. $10 drinks will be served including the 'Porn Star Martini' and 'Lolita' cocktails all night long. Table reservations are available. 7746 Santa Monica Blvd, Los Angeles. www.nowboardingla.com
Power 106 Valentine's Day Crush
Start the Valentine's Day celebrations a day early. The all ages show will feature performances by John Legend, Ne-Yo, Big Sean and more. Held on Feb. 13 at The Forum in Inglewood, pre-show dinner packages are also available at the newly renovated Terrace at 5 p.m. Show tickets range from $59.50-$125. http://www.power106.com/valentinescrush
Love, A Fair at Hotel Figueroa
This Valentine's Day carnival will feature carnival games, kissing booth, food, dancing and more. KCRW DJs Marion Hodges and Valid will be there for the event. Starts at 8 p.m. and costs $30 for entry. 939 S. Figueroa Street, Los Angeles. http://www.figueroahotel.com/event/valentines-day-event/
Noe Restaurant
Enjoy a 4 course menu crafted by Chef John-Paul Kuhn. Seating times are 5-6:00 p.m., 7-8:00 p.m. and 9-10:00 p.m. $85 per person. Omni Los Angeles Hotel, 251 South Olive Street, Los Angeles. (213) 356-4100. http://www.noerestaurant.com
La Boheme
The iconic West Hollywood restaurant offers a special prix-fixe menu for $79 per person from 5 – 11 p.m. From its stunning architecture to dramatic dining rooms and chandeliers, this would make the perfect location for any Valentine's Day dinner. 400 Santa Monica Boulevard, West Hollywood. (323) 848-2360. http://www.globaldiningca.com/laboheme/
The Little Door
The romantic french restaurant is hosting its Casanova Valentine's Day event. Come celebrate the day with a three course meal by Chef T Nicolas Peter at $175 per person. 8164 West 3rd Street, Los Angeles. (323) 951-1210. http://thelittledoor.com/
Providence
For lovers of seafood, indulge in the special Valentine's Day menu. Wine lovers will be happy to enjoy a premium wine pairing and signature chocolates. 5955 Melrose Avenue, Los Angeles. (323) 460-4170. http://providencela.com/
A Food Affair
Celebrate love with American cuisine with a French accent. The eatery will offer a special prix fix menu at $55 per person. 1515 South Robertson Boulevard, Los Angeles. (310) 557-9795. http://afoodaffair.com/
Terranea Resort
Offering a Valentine's Day getaway, book a two-night romantic stay. The package includes luxury accommodations, dinner for two at Mar'sel, rose petal turndown, sparkling wine and chocolate covered strawberries. Rates start at $850 per night. Book with promo VALENTINES.
100 Terranea Way, Rancho Palos Verdes. (310) 265-2800. http://www.terranea.com/
Cafe Del Rey
The romantic bar/restaurant is offering a special three course meal for $85 per person. Feast on delicious meals inspired by the Mediterranean Coast and have dinner by the beautiful seaside setting.
4451 Admiralty Way, Marina Del Rey. 310-823-6395. http://cafedelreymarina.com/
Los Angeles County Museum of Art
Take a stroll though the museum and take in all of the beauty surrounding you. If you want to opt for a less traditional Valentine's Day activity, LACMA will be screening the Brad Pitt and Edward Norton film, Fight Club at 7:30. 5905 Wilshire Boulevard, Los Angeles. 323 857-6010. http://www.lacma.org/
Cliff's Edge Cafe
Take a trip to Cliffs Edge Cafe and partake in a four course meal featuring spot prawn, gruyere tartine, scallops, and valrhona chocolate among the menu options. $85 per person. 3626 W Sunset Blvd. http://www.cliffsedgecafe.com/
The Hungry Cat
At $85 per person, choose from bay scallops, sea urchin, miso, pan-roasted diver scallops, 1/2 maine lobster. oxtail ragout, and much more. 1535 Vine Street, Los Angeles. (323) 462-2155. http://www.thehungrycat.com/
Craft
Come and be bewitched by a special family-style menu available in the Main Dining Room, or enjoy a five course prix fixe meal next door in the Private Dining Room. $115 per person in the Main Dining Room, $135 per person in the Private Dining Room. 10100 Constellation Boulevard, Los Angeles. 212.780.0880. http://www.craftrestaurantsinc.com/craft-los-angeles/
El Cid
Presenting a Valentine's Day celebration, come in for one of three Valentine's Day flamenco shows. Special menu and drinks will be available. Doors open at 5 p.m. Show starts at 6 p.m. $15. 4212 Sunset Boulevard, Los Angeles. (323) 668-0318. http://www.elcidla.com/
Church and State Bistro
Treat your loved one to a menu created by Chef Tony Esnault which will transport you to Paris. The special menu will be available both Feb. 13 and 14. 1850 Industrial Street, Los Angeles. (213) 405-1434. http://churchandstatebistro.com/
Video Slider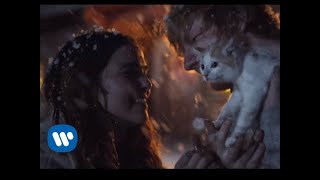 Win Tickets to See Ed Sheeran at the Rose Bowl
Ed Sheeran is back in Los Angeles, and your chance to see him perform is at the Rose Bowl in Pasadena on Saturday, Aug. 18. We are giving away complimentary tickets to the show. For a chance to enter to win, email us at info@lol-la.com with "Ed Sheeran" in the subject line and tell us why you would like to go.