2018 Oscar Nominations and Predictions
Doug Jones as Amphibian Man and Sally Hawkins as Elisa Esposito in The Shape of Water. (Fox Searchlight Pictures)
For the past two years, the Academy of Motion Pictures Arts and Sciences has made a concerted effort to diversify the membership and appeal to younger audiences. The result of that can be seen this year: Oscar voters nominated the two oldest nominees ever (Agnes Varda and James Ivory, born about a week apart in 1928) and the oldest acting nominee (Christopher Plummer, born in 1929). Then again, the documentarian Varda, who earned an Honorary Award several months ago, is a legend in her field and the surviving half of Merchant-Ivory productions is nominated for a European gay love story involving a teenager and a graduate student, not exactly the geriatric-friendly E.M. Forster adaptations that earned him nominations decades before. As for just how much things changed, consider this: Mary J. Blige as an individual earned as many Oscar nominations this year as a Spielberg-Streep-Hanks politically-charged drama. Some things have changed, and as such here are the predictions of what will win this year's Academy Awards.
Best Picture
Call Me By Your Name

Darkest Hour

Dunkirk

Get Out

Lady Bird

Phantom Thread

The Post

The Shape of Water

Three Billboards Outside Ebbing, Missouri
Three Bilboards Outside Ebbing, Missouri and The Shape of Water came into the nominations as the indisputed front-runners, with the former earning the top prize at SAG and the latter winning the Best Picture Award at the PGA, but the lack of a director nomination for Martin McDonagh suggests a weakness to the film, which will have to be content with a few acting prizes and possibly a screenplay award. It is incredibly rare that a film can win Best Picture without a corresponding Best Director nomination, and Martin McDonagh is no Ben Affleck, who turned his snub for Argo into a selling point for the campaign and helped push the 2012 thriller to earn the big prize over films by Steven Spielberg and Ang Lee. Plus, the preferential ballot means that the weakest Best Picture nominees, which are clearly The Post and The Darkest Hour, should be redistributed to films that appeal to those movie's demographics, and The Shape of Water is a slightly old-fashioned love story and technical achievement that supporters of those movies can get behind.
Best Director
Paul Thomas Anderson, Phantom Thread

Guillermo del Toro, The Shape of Water

Greta Gerwig, Lady Bird

Christopher Nolan, Dunkirk

Jordan Peele, Get Out
For months, it looked like Christopher Nolan would finally win a well-deserved Oscar for Dunkirk, but the campaign for the film is virtually non-existent, leading another director with a cult following to pick up the lion's share of directing prizes. With a Golden Globe and a PGA win for The Shape of Water, Guillermo del Toro looks nearly certain to prevail in this category, unless the female-dominated narrative favors Greta Gerwig, which seems to be a slight possibility, no matter how remote.
Best Actor
Timothee Chalamet, Call Me By Your Name

Daniel Day-Lewis, Phantom Thread

Daniel Kaluuya, Get Out

Gary Oldman, Darkest Hour

Denzel Washington, Roman J. Israel, Esq.
Daniel Day-Lewis claims to be retiring, and Phantom Thread was a surprise over-performer for nominations, while Timothee Chalamet earned a near clean-sweep of critical awards, but this Oscar was guaranteed the moment that Gary Oldman, long considered one of the best actors never to win an Oscar, signed on to play Winston Churchill. Not even some of the more incendiary comments Oldman has made over the years are enough to stop him from winning an Oscar for the role, even if his interpretation of the British Prime Minister pales in comparison to John Lithgow in "The Crown."
Best Actress
Sally Hawkins, The Shape of Water

Frances McDormand, Three Billboards Outside Ebbing, Missouri

Margot Robbie, I, Tonya

Saoirse Ronan, Lady Bird

Meryl Streep, The Post
When Frances McDormand won a SAG award for her role as a mother seeking revenge for the rape and murder of her daughter, she referred to these prizes as doorstops and suggested that voters should give them to younger choices instead. Only a personality like McDormand could get away with essentially dismissing these awards and saying vote for her closest competition, twenty-three year old Saoirse Ronan. It's part of why McDormand is so beloved. Like the similarly-salty Katharine Hepburn, her coolness towards the Oscars is why voters want to give her awards.
Best Supporting Actor
Willem Dafoe, The Florida Project

Woody Harrelson, Three Billboards Outside Ebbing, Missouri

Richard Jenkins, The Shape of Water

Christopher Plummer, All the Money in the World

Sam Rockwell, Three Billboards Outside Ebbing, Missouri
Willem Dafoe won a clean sweep of critics' awards, but Sam Rockwell just earned Golden Globe and SAG Awards for his role as a racist cop who redeems himself, and despite excellent reviews for The Florida Project, the little-seen film adored by nearly everyone who actually watched it received no other nominations. For the next month, numerous articles will be written about just how problematic his character is, but Rockwell should be able to weather that because voters will be able to separate the character from the actor himself, and there seem to be no complaints about any of his bad behavior. But as James Franco can attest, stories come out at the very worst time.
Best Supporting Actress
Mary J. Blige, Mudbound

Allison Janney, I, Tonya

Lesley Manville, Phantom Thread

Laurie Metcalf, Lady Bird

Octavia Spencer, The Shape of Water
Lesley Manville was the surprise nominee this year, and nearly every year there's a surprise in this category, people will suggest that she'll come from behind and beat the front-runners. It's the Marcia Gay Harden rule, and it's not happening here. Like Oldman, Allison Janney has a role that is perfectly suited to this category, and the actress is beloved in Hollywood and heavily campaigning for the award. That's enough for her to beat the only contender who could conceivably win the prize, Laurie Metcalf, who hasn't been on the campaign trail as much and doesn't have the history of starring in acclaimed films that Janney has. Both are well-honored for their television work, but Janney has American Beauty, The Ice Storm and The Hours on her resume. Metcalf has Scream 2.
Best Original Screenplay
Get Out

Lady Bird

Three Billboards Outside Ebbing, Missouri
This is probably the toughest category at the Oscars this year, and certainly the most competitive race. Three Billboards Outside Ebbing, Missouri looked like the early favorite, but Martin McDonagh not receiving a Director nomination seems to portend some weakness, and his Globe win, where the Hollywood Foreign Press clearly had less enthusiasm about Get Out and Lady Bird than Academy voters, seems uncertain to repeat. Given that women's issues are the Hollywood concern of the year, actors have voted for their own in this category before and this provides the perfect opportunity to award Lady Bird, Greta Gerwig should narrowly defeat both McDonagh and Jordan Peele's screenplay for Get Out.
Best Adapted Screenplay
Call Me By Your Name

The Disaster Artist

Logan

Molly's Game

Mudbound
James Ivory is a nearly ninety year old legend who has been nominated three times before as director, and his film is the only one in this category nominated for Best Picture. The last time a film won this category without a Picture nomination was when Gods and Monsters won nearly twenty years ago, and it, like Call Me By Your Name did this year, would have been a Picture nominee had the expanded field of nominees existed during that time period. Original Screenplay is the toughest call of the year, Adapted Screenplay is the easiest.
Best Cinematography
Blade Runner 2049

Darkest Hour

Dunkirk

Mudbound

The Shape of Water
This is another very competitive race, with all but Darkest Hour having legitimate chances at the Oscar. Mudbound was shot by the first female cinematographer ever nominated, and Blade Runner 2049 had exceptional work by Roger Deakins, perhaps the greatest-working cinematographer right now, who also happens to have never won an Oscar. But the names of the directors of photography do not appear on the ballot, so the award should come down to either Dunkirk or The Shape of Water. As the Best Picture frontrunner, the edge goes to The Shape of Water. After all, it's harder to make a fish monster look good than Harry Styles.
Best Costume Design
Beauty and the Beast

Darkest Hour

Phantom Thread

The Shape of Water

Victoria & Abdul
None of these seem like clear-cut choices for the prize, since the best-liked film of the bunch, The Shape of Water, doesn't have the lavish period dresses that generally earn wins in this category. Maid uniforms don't really cut it. Beauty and the Beast seems to fit the bill best, but the costumes were essentially copied from the 1991 film, so the designer receives less points for originality. But Phantom Thread was clearly an Academy favorite this year and is about a costume designer, so that seems the most likely choice.
Best Film Editing
Baby Driver

Dunkirk

I, Tonya

Three Billboards Outside Ebbing, Missouri
Like in Best Cinematography, this is a race between the technical marvels by Guillermo del Toro and Christopher Nolan, but this is the one where Dunkirk should finally prevail. Last year Hacksaw Ridge was a surprise winner over Best Picture frontrunner La La Land, yet another reminder of how well war movies do in this category, and the innovative structure of Dunkirk should help the World War II evacuation thriller win this prize over The Shape of Water.
Best Production Design
Beauty and the Beast

Blade Runner 2049

Darkest Hour

Dunkirk

The Shape of Water
Dunkirk can easily be dismissed, because voters will claim there's not enough production design since half the movie takes place on the beach, as can Beauty and the Beast since the design was copied over from the 1991 animated film. This is really a race between the science fiction of the future and the science fiction of the past, and the mixture of styles (forboding government lab, old style movie palace) plus the clear love for The Shape of Water make it the most likely choice.
Best Sound Editing
Best Sound Mixing
Baby Driver

Blade Runner 2049

Dunkirk

Star Wars: The Last Jedi
This is the rare year when both Sound categories had the exact same nominees, so it feels appropriate to treat them as one, particularly since Academy voters outside the sound branch seem to know so little about the craft that the winners generally overlap. Like Film Editing, war movies do exceptionally well in the category, and the sound design of Dunkirk is such a marvel that it should earn both of these Oscars over The Shape of Water.
Best Visual Effects
Given that none of the seemingly hundreds of Marvel films have won this, nor has the motion capture work for the Planet of the Apes trilogy prevailed when they've been up for the prize, it seems those are out, as is Kong: Skull Island. It's a battle between two critically-acclaimed sequels to Harrison Ford movies that still disappointed at the box office despite making a ton of money, and given that Blade Runner 2049 performed better at the Oscars than Star Wars: The Last Jedi, that should give the edge to the series that still has Ford gracing it with his presence.
Best Makeup and Hairstyling
Darkest Hour

Victoria & Abdul

Wonder
Even though the category is for both makeup and hairstyling, it seems that the makeup portion tends to be the dominant consideration for voters, so it's between Darkest Hour for making Gary Oldman look like Winston Churchill and Wonder for making Jacob Tremblay seem less than adorable. Much like The Iron Lady took home Oscars for its makeup team and for its lead, Darkest Hour will continue the tradition of earning acting and makeup awards for turning stars into prime ministers.
Original Song
Call Me By Your Name – "The Mystery of Love"

Coco – "Remember Me"

The Greatest Showman – "This is Me"

Marshall – "Stand Up For Something"

Mudbound – "Mighty River"
This is a race between three songs, depending on how Academy voters choose the winner. The music of Sufjan Stevens is integral to Call Me By Your Name and his film is the best-liked out of all of these, but indie-style musicians likeAimee Mann and Elliott Smith didn't win Oscars, either. The Greatest Showman is the surprise hit of the winter, but the Pasek and Paul songs are somewhat indistinguishable from one another, so This is Me hardly stands out. But animated films do very well in this category, Coco is a more acclaimed film, and the song is essential to the plot. "Remember Me" should win.
Original Score
Dunkirk

Phantom Thread

The Shape of Water

Star Wars: The Last Jedi

Three Billboards Outside Ebbing, Missouri
Alexandre Desplat won the Golden Globe for his work on The Shape of Water, and the award was well-deserved. He should easily prevail over his competition, since the score is so integral to making the story of a romance between a mute woman and a fish monster seem like the charming fairy-tale that it is. All of the choices here are excellent, but The Shape of Water still seems like the obvious winner.
Best Animated Feature Film
The Boss Baby

The Breadwinner

Coco

Ferdinand

Loving Vincent
Coco is a critically-acclaimed Pixar film that made a lot of money. No other film comes close.
Best Documentary Feature
Abacus: Small Enough to Jail

Faces Places

Icarus

Last Men in Aleppo

Strong Island
Without a clear frontrunner in this category like An Inconvenient Truth or Bowling for Columbine, Oscar voters will likely choose this based on the narrative. This could either be selecting the film that feels most relevant, in which case Last Men in Aleppo could prevail, or go for the acclaimed film by a legendary documentarian who has never won. In this case, Agnes Varda should win her first Oscar at age eighty-nine for Faces Places.
Best Foreign Language Film
A Fantastic Woman

The Insult

Loveless

On Body and Soul

The Square
Much like Documentary Feature, this category lacks an unbeatable film like the category often has, like when Amour or Crouching Tiger, Hidden Dragon won Oscars. Because of this, voters may go for the most prominent choice, which would be The Square, which won the top prize at Cannes last year and features Elisabeth Moss in a major role. That's as close to giving an award to The Handmaid's Tale and Mad Men as Oscar voters can get, so they'll take it.
Best Documentary Short Subject
Edith & Eddie

Heaven is a Traffic Jam on the 405

Heroin(e)

Knife Skills

Traffic Stop
Interracial geriatric newlyweds, artists with mental disorders, heroin addicts, prisoners working at restaurants and police misconduct are the subjects of these documentaries. Without seeing the five films and judging them solely on their subject matter, Traffic Stop seems the most likely to win.
Best Live Action Short
DeKalb Elementary

The Eleven O'Clock

My Nephew Emmett

The Silent Child

Watu Wote: All of Us
A Georgia school shooting, a delusional patient believing himself to be the psychiatrist, a portrayal of Emmett Till before his death, a deaf girl learning sign language and a story of Muslims and Christians resolving differences in Kenya. Sight unseen, Watu Wote: All of Us seems to be the most Oscar-friendly, combining social issues with at least some optimism in the ways the others do not.
Best Animated Short
Dear Basketball

Garden Party

LOU

Negative Space

Revolting Rhymes Part One
An animated depiction of Kobe Bryant, wealthy frogs, a Pixar short about monsters, a father teaching a son to pack a suitcase, and an adaptation of Roald Dahl stories. Pixar won this category last year, but rarely does, and without seeing any of these five, the Roal Dahl adaptation Revolting Rhymes Part One seems like the most appealing choice.
Video Slider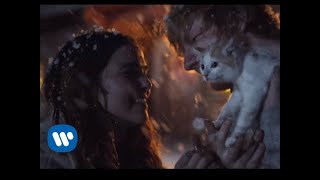 Win Tickets to See Ed Sheeran at the Rose Bowl
Ed Sheeran is back in Los Angeles, and your chance to see him perform is at the Rose Bowl in Pasadena on Saturday, Aug. 18. We are giving away complimentary tickets to the show. For a chance to enter to win, email us at info@lol-la.com with "Ed Sheeran" in the subject line and tell us why you would like to go.