A Breakout Role for Hong Chau in Downsizing
Hong Chau and Matt Damon star in Downsizing. (Paramount Pictures)
In Downsizing, Hong Chau breaks out as Ngoc Lan Tran, an activist and refugee who finds herself as one of the most important characters introduced in the film beside Matt Damon (as Paul Safranek) and Christoph Waltz (as Dusan Mirkovic).
In a wonderful way, the film poses a lot of questions about shrinking people to reduce the eco-footprint of humanity and seeks to bring together characters from all walks of life together.
At the press day for the film, Chau talked about coming across the project. "When I first read the script I was really blown away by all of the incredibly insightful observations about race and class and it was a story that humanizes immigrants and refugees in ways that I have never seen before. My character was a really a revelation to me, she's someone I feel is very identifiable, someone a lot of us think we all know but not in this way."
Without giving too much away about the film, the way that Ngoc comes into the life of Damon's everyman character Paul Safranek is believable in an unbelievable world where everyone is tiny in small colonies. At the risk of some taking the character the wrong way, Chau defends the choice to portray Ngoc in a way she felt was someone people do know in real life.
"When I look at my parents I don't see a stereotype of a human being. I see a full person. It's a little bit tricky discussing the movie because it would require me explain the entire movie. Part of the responsibility of the audience is to digest and metabolize and think about their story on their own," says Chau.
She adds, "In this particular case the audience needs more guidance. I'm not quite sure why people are flabbergasted to hear a person with an accent in a movie. We're surrounded by people with accents, we're a nation of immigrants and in the city of Los Angeles–in any major city–there are people who work in kitchens, who do all of the labor, things a lot of people don't want to do. The movie shows the machinery, the apparatus, the value system that allows for that inequality and I don't think that's shown. That's problematic."
Having Ngoc be the necessary guide who shows Paul and the audience the trickle-down economics that still exist in any society was one of the biggest strengths of the film.
Chau described the importance of that. "Of course my parents, my Vietnamese refugee community is certainly an inspiration. At the end of the day the character is mine. She's mine. I feel like people don't put certain limitations on other actors when British or Australian actors come over and perform an American character we laud them and we talk about how great it is that they're able to do this other accent that is not their own," she says.
Chau adds, "Americans have different relationships with different accents. Like how we view Spanish from Spain or from Mexico because Americans have a different relationship with how they view these people. For the Vietnamese accent for example, usually because we tend to have occupations where we are servicing people in a manner–and that brings up the race and class issue. Inequality and discriminations that comes with it. That's a lot to unpack and it's not just about an accent being problematic. For me as somebody who is from southeast Asia, that region has experienced a lot of violence in its past. So for me it's symbolic to see a woman who is an amputee."
Downsizing is now in theaters.
Marvin Vasquez contributed to this story.
Video Slider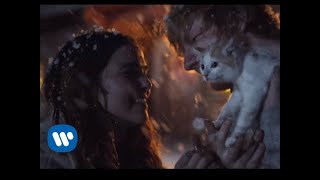 Win Tickets to See Ed Sheeran at the Rose Bowl
Ed Sheeran is back in Los Angeles, and your chance to see him perform is at the Rose Bowl in Pasadena on Saturday, Aug. 18. We are giving away complimentary tickets to the show. For a chance to enter to win, email us at info@lol-la.com with "Ed Sheeran" in the subject line and tell us why you would like to go.