Aislinn Derbez, Mauricio Ochmann Talk About Hazlo Como Hombre
Aislinn Derbez as Nati and Mauricio Ochmann as Raúl in Hazlo Como Hombre (Pantelion Films)
Pantelion Films' Hazlo Como Hombre, the Mexican comedy starring Mauricio Ochmann, Aislin Derbez, Humberto Busto and Alfonso Dosal lands in the U.S. with its opening today. The fun and solid comedy aims to make audiences reflect on tolerance of others in a world often run by toxic masculinity.
In the film, Raul (Ochmann), Eduardo (Busto) and Santiago (Dosal) have lived a happy but very manly life since they were kids until one day Santiago confesses that he's gay. Shocked, Raul foolishly acts very male alpha and homophobic and tries to convince his friend that he's just a little confused. After pushing him away, Raul is forced to look at his prejudices and decides to help his friend in a new chapter in his life.
Breaking Mexican box office records, the international film has become one of the most seen, even against some of the popular Hollywood fare that also premiered at the same time. Written and directed by Nicolás López, the provocative comedy, which plays with the subversive, definitely succeeds in going where no other comedy has gone before.
In our exclusive interview, the stars talks about their characters.
Ochmann plays a straight guy veering into the worst of what makes homophobes so detached from reality.
"Raul is macho, stuck in time, acts homophobic and is an imbecile. I had to represent this concept of a person that exists in society. It was delightful to interpret this character in an exaggerated comedic way to talk about these themes and make fun of ourselves as a society," Ochmann says. "I think comedy is a lubricant to transcend and heal certain questions that speak to the personal struggles of acceptance in society. My way to attack these characters is to empathize with them from the start. He's well written, and so are the others. The director knew very well what he wanted, and he allowed us the liberty to create them to enrich the film."
The film doesn't stray away from controversial scenes that aren't ordinarily handled with finesse. There's a scene with Derbez that could have gone into vulgar territory but is handled in a way that subverts the ordinary. Ochmann shared with us how he directed his wife in the scene in particular where she plays with a sex object of sorts.
"Well, look, the title is ironic. What does it mean to 'hazlo como hombre'? It really is to confront your fears and insecurities and valiantly go all-in to face challenges in life that make you uncomfortable. I was present for the scene where my wife gets intense, and it was delightful, we couldn't stop laughing behind the monitor. She's great."
Derbez, who actually is Ochmann's wife in real life, chimed in about her character.
"I play Naty. She's Raul's sister, and she's about to marry Santiago, and she discovers that he's out of the closet right before. She finds herself in a predicament that she has no idea what to do about. So of course she gets wild and filled with anxiety and desperation in reaction. The scene with the sex toy was a lot of fun, and obviously they're intense situations. I thought it would be weird or funny, but I was a little scared it would be too much. I trusted the director and went ahead with it with confidence as a team."
Balancing emotion and humor, Hazlo Como Hombre contains a strong dose of medicine against toxic masculinity. It's without a doubt nonstop fun from start to finish. It's a bro-mance between these guys and uncovers the true meaning within friendship that transcends and changes even from prejudices to acceptance of one another.
Hazlo Como Hombre is now in theaters.
Sabina Ibarra contributed to this story.
Video Slider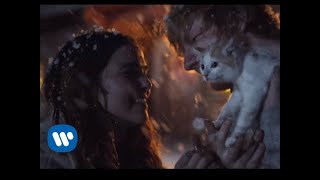 Win Tickets to See Ed Sheeran at the Rose Bowl
Ed Sheeran is back in Los Angeles, and your chance to see him perform is at the Rose Bowl in Pasadena on Saturday, Aug. 18. We are giving away complimentary tickets to the show. For a chance to enter to win, email us at info@lol-la.com with "Ed Sheeran" in the subject line and tell us why you would like to go.