Anthony Gonzalez, Family Celebrate Blu-Ray / Digital Release of Pixar's Coco
Miguel Rivera, voiced by Anthony Gonzalez, in Pixar's Coco (Disney / Pixar)
The wait is finally over, the beloved Pixar film Coco is finally available on Digital HD, including Amazon and iTunes.
While its available on digital platforms now, it won't be released on DVD/Blu-Ray and On-Demand until Feb. 27.
Since its release in theaters, the film has gained critical acclaim and captured the hearts of audiences everywhere.
Coco tells the story of a 12 year-old aspiring musician, Miguel, and his journey into the magical land of his ancestors.
Depicting the culture of Mexico and the beauty behind "Day of the Dead," the story transcends pure entertainment and pulls at the heart to remind one of how important family is.
It won a 2018 Golden Globe Award for Best Animated Motion Picture and became the highest grossing film of all time in Mexico and was just nominated for two Academy Awards.
Earlier this month in celebration of the Blu-Ray / Digital release of the movie, Anthony Gonzalez (voice of Miguel) performed two songs from the film, "Remember Me" and "Un Poco Loco" on Olvera Street.
The event also featured performances by the Mariachi Divas, coloring stations, a guitar making station, and face painting.
The event was additionally meaningful for the young star as he started performing at Olvera Street at the age of four and was supported by his family and accompanied by his siblings for the performance.
"It brings back so many memories," Gonzalez said.
He recalled watching his sisters do ballet and tap, his parents bringing out speakers, and performing with his brother.
Having grown up in a musical family, the outings became tradition.
Much like audiences, Gonzalez said he's excited for the release of Coco and for everyone to have access to it.
"Coco has made an amazing impact in society," he said.
"It's taught many people about Day of the Dead and what it's about."
For those unfamiliar with it, the holiday which runs from Oct. 31 to Nov. 2 is a celebration of life and of loved ones who have passed away.
"Now people who have friends or family who have passed away and have seen the movie see that it's another part of life."
"They're not gone forever, their spirits are still here," Gonzalez explained.
If viewers loved Coco in theaters, they'll be delighted by the bonus features included on Blu-Ray / DVD.
Viewers will get to follow the filmmakers as they take in Día de los Muertos in Mexico, learn about the cast and crew, explore the music, get behind the scene looks at the creative costuming and deleted scenes, to name a few.
For Gonzalez, being a part of it was a dream come true.
He stated he grew up watching Disney / Pixar films and had the blankets and toys, and now he's the star of one of the most popular films.
Mark your calendars and get prepared for all of the feelings that come with watching Coco.
Marvin Vasquez contributed to this story.
Video Slider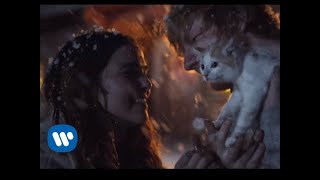 Win Tickets to See Ed Sheeran at the Rose Bowl
Ed Sheeran is back in Los Angeles, and your chance to see him perform is at the Rose Bowl in Pasadena on Saturday, Aug. 18. We are giving away complimentary tickets to the show. For a chance to enter to win, email us at info@lol-la.com with "Ed Sheeran" in the subject line and tell us why you would like to go.