In Anticipation of Its DVD release, Director Miguel Arteta Explains the Inspiration Behind Beatriz at Dinner
Connie Britton, Salma Hayek and John Lithgow in Beatriz at Dinner
There is an obvious inspiration for director Miguel Arteta's latest effort, Beatriz at Dinner, which releases on home video Tuesday, Sept. 12 after a successful art house run earlier this summer, but despite featuring a bombastic and insensitive real estate developer, the movie was not only inspired by Donald Trump. Arteta also cites the death of Cecil the Lion several years ago as an inspiration for writer Mike White, a longtime collaborator with Arteta on the independent successes Chuck & Buck and The Good Girl as well as the Golden Globe-winning "Enlightened" on HBO.
"Mike came up with this idea about two years ago when Cecil the Lion got murdered by the dentist and Donald Trump said those horrible things about Mexicans," Arteta explains. "I think he was outraged and incensed, wondering what it would be like if he were at a dinner party with someone like this. Out of that idea came the story, which is telling a story about very, very opposing world views, that we're living them, and put them in a very relatable environment like a dinner party."
Despite the Trumpian parallels in Beatriz at Dinner, Arteta made a conscious effort to make sure that the story, in which Salma Hayek's physical therapist clashes with John Lithgow's real estate developer, was a simplistic parable.
As Arteta explains, "Everyone had good reasons for what they do. Even awful people who are willing to abuse power wake up with what they think are good reasons, and even the people who are agents of good sometimes don't have the skills to put their passion across. That's what makes Salma's Beatriz so compelling. She had the right convictions and lives by them, but sometimes doesn't know the best way to communicate them. She lives outside the social norms, like many of Mike's characters who have a difficult time getting themselves across."  
Arteta has nothing but praise for Hayek, who during a year in which she gave several outrageous comedic performances in How To Be a Latin Lover and The Hitman's Bodyguard, goes for subtlety and sincerity.
"Salma has a huge heart with a lot of compassion. She's an incredible animal lover and fights for social justice. But the quality that is important to play in the role is the deep intelligence that is clear in her eyes. The reason I kept the camera so close to Salma is because that intelligence is right there. She observes them with a piercing intellect and a big heart."
Unlike some of Hayek's typical bombshell performances, Arteta and Hayek crafted her performance for a different type of humor.
"Salma is extremely funny, and when that happens, the industry leans into that. Here, the movie was funny and the situation was funny, so her character didn't need to be. It was as simple as telling her not to bring any of the funny into it and just be present. I'm proud that she trusted me and made an effort to be present."
Beatriz at Dinner may be a comedy of manners, but like so much of Arteta's work, particularly his collaborations with White, it exploits an escalating sense of tension as the characters become more and more uncomfortable with one another.
"It was the tension and its release that brought the humor. You set up a collision course, and you know it's inevitable. The audience feels that tension that keeps growing. It's a slow burn that is hopefully deliciously unbearable."
Arteta is one of the few directors who moves from television to film and back with ease. Along with "Enlightened," he has worked on numerous acclaimed television shows as varied as "Homicide: A Life on the Street" and "The Office." Arteta cites one of the shows for which he directed multiple episodes, the HBO funeral home drama "Six Feet Under," as part of that shift that makes him feel as ease on a television set as a film one.
"The majority of television is controlled by great writers because they have great power there. 'Six Feet Under,' when it came out in 2001, signaled a shift along with 'The Sopranos,' where television could really be as thought provoking and as gripping and elegant as any independent movie. Now we live in a world where that happens all the time, and it's great."
Beatriz at Dinner releases on DVD Sept. 12.
Video Slider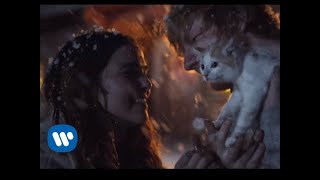 Win Tickets to See Ed Sheeran at the Rose Bowl
Ed Sheeran is back in Los Angeles, and your chance to see him perform is at the Rose Bowl in Pasadena on Saturday, Aug. 18. We are giving away complimentary tickets to the show. For a chance to enter to win, email us at info@lol-la.com with "Ed Sheeran" in the subject line and tell us why you would like to go.