Are You A DAYBREAKER or A Snoozer?
DAYBREAKER in L.A. (Daizy Neri/Living Out Loud LA)
Most people in Los Angeles never associate parties or dancing with their morning, and that's because we have so many night spots and practically no morning ones.
But now, DAYBREAKER has arrived and makes you do a double take at what an average morning could look like. They get the morning started just right by throwing an early morning dance shin dig fused with an intense work out and mood booster all-in-one!
It's a 2-hour event co-founded by Matthew Brimer and Radha Agrawal. It's an experience like no other that usually starts at about 6:30 a.m. at a disclosed location in Los Angeles. The entity is founded on the declaration of, "Dancing before daybreak with people we love; about creating a community of camaraderie, self-expression, wellness and mischief".
DAYBREAKER is a new way to get a morning workout in and just another excuse to dance and party a little more in life. Although there is no alcohol involved, it is packed with morning goodies and such was the case on Thursday, Feb. 26, 2015 at Rhubard Studios – Tech Venture Studio at the US Bank Tower in downtown L.A. Available items included KIND (healthy snacks), Stumptown Coffee Roasters, Bai 5, and Runa clean energy drinks.
All in all, DAYBREAKER is a guaranteed way to make sure you are hydrated and fed and ready to burn and dance some calories off.
I can honestly say that 2 people next to me were dressed as a taco and pizza. Doesn't that sound fun and exciting? It's an experience like no other that is attended and suitable for people of all ages and ethnicities. On top of that, DAYBREAKER brought out DJ Cameron St Denis, who made sure the dancing never stopped.
No gym time in the morning for you? No fasted cardio in the morning for you? Well, DAYBREAKER could very well be just right for you!
Video Slider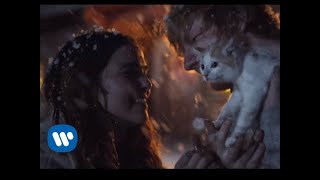 Win Tickets to See Ed Sheeran at the Rose Bowl
Ed Sheeran is back in Los Angeles, and your chance to see him perform is at the Rose Bowl in Pasadena on Saturday, Aug. 18. We are giving away complimentary tickets to the show. For a chance to enter to win, email us at info@lol-la.com with "Ed Sheeran" in the subject line and tell us why you would like to go.