Armie Hammer, Timothée Chalamet and Director Luca Guadagnino on Call Me by Your Name
Timothée Chalamet, Luca Guadagnino and Armie Hammer on the set of Call Me by Your Name (Peter Spears/Sony Pictures Classics)
Like so many movies about gay characters, the overwhelmingly acclaimed Call Me by Your Name received what little criticism it received for casting openly straight actors in gay roles. Those complaints never fazed star Armie Hammer nor director Luca Guadagnino, but for different reasons. When asked if Guadagnino should have cast a queer actor in the role, the director goes for the literal interpretation.
"Armie is queer," he says, "because the word queer just means different."
Hammer, in contrast, takes a more circumspect approach to the question, which he has been asked several times before.
"I was honored to be asked to do this," he explains. "It seemed like an amazing challenge as an actor, not to play a gay character because I've done that several times before, but the challenge was that it lived and died on the relationship between the characters. There was no distraction, no green screen or special effects. It was propelled by the emotional moments between them, and if those didn't ring true, then the movie couldn't work. The challenge was making myself that emotionally accessible and vulnerable, and I credit Luca with dragging and pulling that out of me."  
And yet for co-star Timothée Chalamet, his role opposite Hammer as Elio, an Italian teenager who begins a romance with Hammer's American graduate student Oliver, did not carry as much pressure as it did the more established Hammer.
"I wasn't intimidated at all," Chalamet claims. "As an actor, particularly a young one, you look to your director for an emotional cue on how the day is going, and Luca was secure that I didn't need much attention as a performer. I have the gift of no one really knowing who I am, so there wasn't as much on the line for me."
Call Me by Your Name is based on the novel by André Aciman and has a screenplay credited to James Ivory, best known for directing genteel costume dramas like A Room with a View and Howards End. The film takes place over the summer in northern Italy as Hammer's Oliver and Chalamet's Elio fall in love. The acclaimed source material was a draw for Chalamet, but because it is a first-person narrative from Elio's point of view, Hammer never wanted to draw upon the novel.
"There's an intense gift with working with this type of source material," says Chalamet, "but it's very much a first person narrative, so Armie never wanted to read the book on set. More than anything, the relationship just flowered for me, and we just had to reinvent the universe where we got along natural as human beings. Now we have a relationship that has flowered in the year and a half since, but when it comes time to shooting it, you have to let it go and hope to not commit the cardinal sin of being boring."
The 1983 setting is key to the film, not only in the pop music that permeates its scenes, in particular one song by the Psychedelic Furs, but as a gay love story. It exists in that time right before the true emergence of the AIDS crisis throughout the world. Guadagnino points out that it is not only the close of a chapter for gay people, but an international one.
"I think 1983 is the beginning of the end of the power that sprung out in 1968 and died. If there is a thickening of the cultural zeitgeist in which the boy Elio can be accepted there, I think we are witnessing the end of that complexity and explosivity of the culture around that time. The '70s were years of unrest with terrorism, and yet the outcome was a certain type of conservatism that then triumphed through Thatcher and Reagan that crushed the existence of so many people. I have friends who were the ages of Elio and Oliver who became alone because they survived as a generation of friends died around them. I do believe that the outcome we're suffering now is a result, where we're experiencing a pornographic existence in which we are slaves to enjoyment but cannot grasp desire."  
Part of the key to the film's compassion is the portrayal of Elio's father by Michael Stuhlbarg, whose reaction to his son's romance with an older man is unexpected and provides one of the most moving scenes in the film.
Stuhlbarg drew from his relationship with his own parents to play the role and insists, "I am absolutely the luckiest kid in the world. I had remarkable parents, so if you gleaned any of that compassion, it comes from them. Tapping into it seems as natural as speaking English. I watched and was dazzled by both Armie and Timothée's fearlessness in diving into the material, and it was an honor and pleasure to watch."
Perhaps the scene that illustrates the film's fearlessness is one erotic moment involving Elio and a peach that evokes, in at least a mechanical sense, the comedic set piece of American Pie, although in a far more emotionally complex context.
As Guadagnino explains, "The evident heroes of the scenes are Timothée and Armie because they go from curiosity and sensuality to tiredness and shame, then aggressiveness and finally the sense of dread that time was passing, and they wouldn't be together for much longer. But the real unsung hero is our cinematographer, because when you shoot a scene like that, you don't want a situation where everyone giggles, and you need a concentration and devotion to the beauty of what this man has in his eyes."
Despite the seriousness and emotional depth of the peach scene, even Hammer can mine humor from it.
"It had to be a peach," he cracks. "We tried an apricot, but it was too small."
Call Me by Your Name is now in theaters.
Video Slider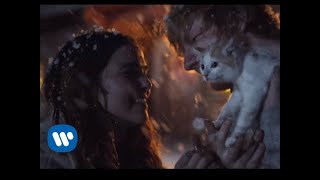 Win Tickets to See Ed Sheeran at the Rose Bowl
Ed Sheeran is back in Los Angeles, and your chance to see him perform is at the Rose Bowl in Pasadena on Saturday, Aug. 18. We are giving away complimentary tickets to the show. For a chance to enter to win, email us at info@lol-la.com with "Ed Sheeran" in the subject line and tell us why you would like to go.