Artist Ali Stone Talks New Album and Harley Quinn Inspirations with New Single
Ali Stone's debut album, Sexto Sentido, is out now.
Living Out Loud – Los Angeles recently got to chat with Ali Stone while the international artist promotes her new album, Sexto Sentido. The multitalented Colombian producer, singer-songwriter and DJ is ready to drop her latest concept project onto airwaves after being Justin Bieber's supporting act on his recent Purpose Tour and having worked with Martin Garrix, Robin Schulz and Halsey. With Sexto Sentido, Stone is gearing up to show a different side of herself – well, all sides of herself – with an album that explores intuition and the duality inside all of us.
LOL-LA: How did the concept for Sexto Sentido come about?
Ali Stone: I wanted to make an album that was more than just a collection of a few single. With this concept, I wanted to have a purpose and a story with all these songs leading up to the concept within the idea of the album and album title. Sexto Sentido is distinctly about intuition and trusting it, that perspective.
LOL-LA: How long did it take for you to record?
AS: It took about a year. It was quick to produce and write the songs to the concept I came up with.
LOL-LA: What would you say was the biggest challenge during that time while making the album?
AS: I would say the biggest challenge was truly to work on certain parts to link all the songs from beginning to end. I wanted there to be chapters within a book. I had songs that I liked but didn't work with the album or song that came up when I finished the album. I experienced some sadness after, but it was already done. There were a lot of sacrifices made, like songs.
LOL-LA: After hearing all your material, did you feel satisfied with your work to make the album come together?
AS: I did feel very satisfied especially because I saw people get it, you know? They felt it like a journey or a roller coaster. That was exciting because that's what I wanted to do with the album. It's wonderful for people to see the concept and love it. It's me. I wrote   it, and it's 100 percent mine. It feels good to know I made something that is honestly me.
LOL-LA: What can you tell  us about "El lado oscuro?"
AS: "El   lado   oscuro" is the first single off of Sexto Sentiedo that introduces the dark side of having that intuition. It's told in two ways, seen in two ways, explores the darkness, death. I was inspired by Batman comics and the character of Harley Quinn. When she was Harleen Quinzel, she was a good girl. But her dark side came out, and she became a villain. I wanted to explore that in the song and in the video visually.
LOL-LA: Do you have the next single lined up?
AS: I do actually, "En tu piel," that talks about betrayal and how your intuition tells you the truth behind what people say and their lies, and how karma will come for you. It's empowering in the sense that you can roll it off your shoulders and live in your truth.
LOL-LA: What inspires you?
AS: I'm inspired by my fans. They're my motivation in everything I do. Their support and the support of my family and friends, the love I have for music that I've had since I was young. Music is my boyfriend. It fills me with love and happiness to pursue music with passion.
Sexto Sentido is available now. For more information, visit alistonemusic.com .
Marvin Vasquez contributed to this story.
Video Slider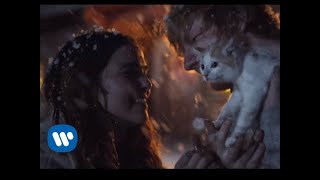 Win Tickets to See Ed Sheeran at the Rose Bowl
Ed Sheeran is back in Los Angeles, and your chance to see him perform is at the Rose Bowl in Pasadena on Saturday, Aug. 18. We are giving away complimentary tickets to the show. For a chance to enter to win, email us at info@lol-la.com with "Ed Sheeran" in the subject line and tell us why you would like to go.