Artopia 2017, a Truly Fascinating Affair
Artopia was bursting with creative energy, great music, refreshing drinks and one-of-a-kind art exhibits. (Levan TK/LA Weekly)
The vibe was real at this year's fifth-annual Artopia event by LA Weekly at the historical Union Station. The swanky party offered a mixture of local artists, musicians, food trucks and craft cocktails to celebrate the diverse and unique L.A. art scene.
Local musical talent lit up the evening with awesome beats playing all night long, while an assortment of artists showcased their skills and creativity during live art exhibitions. Guests were beyond blessed with a sensory overload as the night unfolded, getting down to the sights and sounds and even had the chance to play with some cool gadgets like the Virtual Reality simulator and the Time Machine booth.
All kinds of interesting, eye-catching displays made the event truly memorable, such as the 500 count Jerry Maguire VHS pyramid created by Everything is Terrible or the voyeuristic installation by Jana Cruder titled The Way of Modern Man in which an almost nude subject simply sat atop a platform and wrote and received text messages viewable to the audience on a large screen.
Several vendors attended the event as well, handing out complementary goodies to the masses such as Pabst Blue Ribbon, Zico, Health-Ade Kombucha, Hubert's Lemonade and many more. As guests checked out the live art displays and other fun festivities, Courvasier and Effen Vodka further enhanced the evening at their mixology booths featuring exquisite craft cocktails to really set the mood right. My favorite drink of the night was the Currant Time, a delectable concoction made with Effen Vodka, Velvet Falernum, lemon, egg white and black currant syrup, which tasted deliciously sweet with a nice kick, served by mixologist Kelsey Schulte of Resident DTLA.
But what would an L.A. party be without food trucks? Once the munchies took hold, guests flocked over to the Smorgasburg food trucks to get their hands on the yummy eats by Spoon & Pork, Plant Food for People, Hot Star Fried Chicken and Crispy Cuban. I was in awe of Spoon & Pork's melt-in-your-mouth pork belly musubi and savory pork belly banh mi. You seriously can't have enough pork belly in your life!
The night was truly a fascinating affair, bursting with creative energy, great music, refreshing drinks and one-of-a-kind art exhibits. Patrons even got to take home a goody-bag full of souvenirs at the evening's end. Hands down, this event is not one to miss in the future!
Video Slider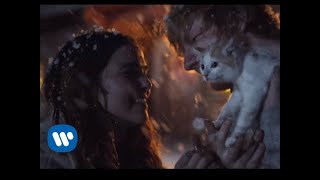 Win Tickets to See Ed Sheeran at the Rose Bowl
Ed Sheeran is back in Los Angeles, and your chance to see him perform is at the Rose Bowl in Pasadena on Saturday, Aug. 18. We are giving away complimentary tickets to the show. For a chance to enter to win, email us at info@lol-la.com with "Ed Sheeran" in the subject line and tell us why you would like to go.