Autum Reeser Discusses Role in Valley of Bones
Autumn Reeser as Anna in Valley of Bones (Smith Global Media)
Valley of Bones, starring Autumn Reeser, Rhys Coiro, Steven Molony, Mason Mahay, Alexandra Billings, Bill Smitrovich and Mark Margolis, is directed by Dan Glaser – who does a fine job helming this original crime thriller set in the harsh Badlands of North Dakota. For Reeser (who plays Anna, a single mother and disgraced paleontologist), the most challenging thing was the filming location: the Midwest.
"It was a physically difficult project to work on," she says. "We were about an hour away from any town, any real communication, and we had no mobile service … the weather was extreme. We ended up shutting down production for some time due to weather."
But other than that, everything was "great," according to Reeser. Working with the director was one of the many pleasant things about Valley of Bones, she says.
"Dan is a very generous director," says Reeser. "He is so knowledgeable with regard to film without even being arrogant about it and so collaborative … he is a lovely, enthusiastic person."
What makes Valley of Bones a special flick is that the past and present collide from beginning to end, making Reeser's performance of Anna a real treat to watch throughout. But Molony, whom portrays the meth-addicted oil worker McCoy that teams up with Anna to unearth the remains of the T. rex, also outdoes himself, and this can very well be categorized as his best acting performance to date.
According to Reeser, Anna has buried emotions, but throughout the movie, she lets them out.
"She uncovers and unburies this T. rex, and brings it to life again," says Reeser. "That's a metaphor for Anna's journey."
Reeser also says that she has similarities to her character.
"Part of the reason why I chose to do this character is because we both have gone through something difficult in our lives," says Reeser with no hesitation. "I wanted a character that was suffering in pain. It was easy for me to step into Anna's shoes because she is carrying so much pain and not knowing what to do with it. And, you know, that was kinda part of my life, and it wasn't easy."
One of the interesting things of the plot is the relationship between Anna and her innocent 10-year-old son, played by Mahay. Reeser acknowledges that and has nothing but praise for the boy.

"Mason is such an honest, talented young actor," she says. "He is very present and has this tenderness to this movie, and it makes him fun to watch in this movie."
But why should moviegoers watch Valley of Bones?
"This movie is a roller-coaster ride and the stakes are high; it's a life-and-death battle," Reeser says. "There is a strong theme about being a parent and what that means."
Valley of Bones is now in theaters.
Video Slider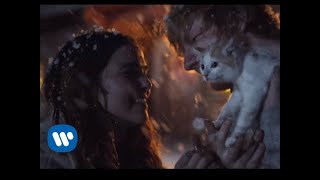 Win Tickets to See Ed Sheeran at the Rose Bowl
Ed Sheeran is back in Los Angeles, and your chance to see him perform is at the Rose Bowl in Pasadena on Saturday, Aug. 18. We are giving away complimentary tickets to the show. For a chance to enter to win, email us at info@lol-la.com with "Ed Sheeran" in the subject line and tell us why you would like to go.