Autumn Calabrese's 21 Day Fix Gains Popularity
Autumn Calabrese's 21 Day Fix / 21 Day Fix Extreme programs.
Weight loss tends to be the typical resolution for most people, yet anyone who has tried to diet knows the struggles of staying on track and sticking to their goal.
As a result, Beachbody's weight-loss program, 21 Day Fix, has recently become their number one seller.
Founded in 1998 by Carl Daikeler and Jon Congdon, Beachbody, LLC, the Santa Monica based company is the creator of some of the most popular weight loss solutions, including, P90X, Insanity, and now the 21 Day Fix.
Celebrity trainer, Autumn Calabrese is the star of the product which allows customers to take the guess work out of weight loss and avoids calorie counting and actually allows you to eat what you want.
Having trained numerous stars like Kendall Jenner, and Brooke Burke, Calabrese is a national level bikini competitor and a certified trainer whose workouts have been featured in C Magazine, LA Parent, and TV shows like "Home & Family."
The 21 Day Fix uses a portion-control system and easy-to-follow 30-minute workouts to help break bad habits and the typical downfalls of weight loss. It provides beyond solid results.
The program comes with seven exclusive containers which are color-coded for veggies, fruits, proteins, carbs, healthy fats, seeds/dressings, and you'll also receive a Shakeology shaker cup.
Additionally, the two workout DVDs feature six workout routines which focus on total body cardio, upper fix, lower fix, Pilates fix, cardio fix, and yoga fix. And they all really work!
Online support is also available 24/7 to help users with their journey and to help track their progress.
The cost to join the 21 Day Fix is three monthly payments of $19.95 (+ $12.95 s&H) or you can opt for a single payment option during checkout at www.beachbody.com.
There is a 30 day money back guarantee if you're not satisfied with results.
——————
Below are Autumn Calabrese's tips for portion control while dining out
1. Order an appetizer as your main dish. Even appetizers are usually the perfect size meal. So choose one as your main dish and maybe add a side of veggies with it.
2. Share an entree. Chances are you are at dinner with a friend or family member so pick an entree that sounds good to both of you and share it.
3. If ordering a salad ask for the dressing on the side.
4. Drink water. Sip your water while you eat. Sipping water will help fill you up. It will also ensure that you are hydrated. Our bodies often confuse thirst for hunger.
5. Eat your veggies first. Fill up on vegetables so you eat less of the carbohydrates and protein which are higher in calories.
6. Take half to go. If you do order your own entree ask your server to bring you a Togo box when the entree arrives at the table. Put half in the box to take home & enjoy the other half.
7. The first time you feel full put the fork down. Often we continue to eat because we like the taste not because we are still hungry. Don't stop eating when you are so full that it hurts, stop eating when you feel satisfied.
8. Don't skip meals. People tend to "save their appetite" for a nice dinner out. Skipping a meal before hand means you will arrive to dinner hungry and want to order one of everything.
Video Slider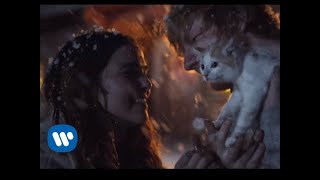 Win Tickets to See Ed Sheeran at the Rose Bowl
Ed Sheeran is back in Los Angeles, and your chance to see him perform is at the Rose Bowl in Pasadena on Saturday, Aug. 18. We are giving away complimentary tickets to the show. For a chance to enter to win, email us at info@lol-la.com with "Ed Sheeran" in the subject line and tell us why you would like to go.