Bar 10 brings Craft Cocktails and Casual Dining to West Hollywood
Bar 10 offers delicious signature cocktails and food options, as well as a laid-back atmosphere.
West Hollywood is known for its host of over-the-top nightlife spots. People flock to the city every weekend to dance the night away and enjoy some of Los Angeles' most popular bars and nightclubs. A new bar and restaurant offers an alternative for people looking for a comfortable, stripped down spot in West Hollywood with craft cocktails and American cuisine.
Bar 10 is one of the newest additions to the Santa Monica strip. The bar and restaurant focuses on a "no frills" approach – offering a concise cocktail list and a nice variety of food options. The venue, formerly the home of the short-lived steak house, the Horn, is designed with an expansive bar, high tables and a pool table. The ambience is sports bar meets East Village, New York City – and it works.
The cocktail list consists of 10 specialty cocktails all priced at $10. Ten different members of the staff at Bar 10 created the list. The standout drink is the Basic Bitch. This libation consists of vodka, elderflower liqueur, blackberry cordial and lemon. The array of flavors yields a cocktail that is anything but basic. A close second is the Abeja – tequila, honey and lemon. This concoction sticks with the "no frills" mantra of Bar 10.
The restaurant offers a variety of options all inspired by standard American cuisine. The appetizer list is filled with items that are perfect to devour after a night out on the town or before an entrée. The Drunken Mac 'n' Cheese is created with a bourbon reduction. The reduction paired with the add-on of bacon makes for a decadent dish. The Truffle Mushroom flatbread would make a great companion to a game of pool and some of the beers on tap at Bar 10.
The entrée selections are varied and simple. The Salmon dish served atop a vegetable medley and quinoa makes for a delicious dinner. The sweet glaze is the perfect accessory to the quinoa. The Grilled Steak au poivre is served with broccoli and mashed potatoes – standard, easy and fulfilling.
Bar 10 has an enticing Happy Hour menu daily from 5 p.m. to 8 p.m. The budget-friendly menu includes oysters for $1 each, Margherita Flatbread for $5, wine and beer for $4 and a signature cocktail for only $8.
If comfort food, paired with wonderfully crafted cocktails and a laid-back environment is what you crave – stop by Bar 10 on your next visit to West Hollywood.
For more information, visit bar10weho.com.
Video Slider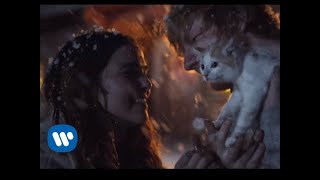 Win Tickets to See Ed Sheeran at the Rose Bowl
Ed Sheeran is back in Los Angeles, and your chance to see him perform is at the Rose Bowl in Pasadena on Saturday, Aug. 18. We are giving away complimentary tickets to the show. For a chance to enter to win, email us at info@lol-la.com with "Ed Sheeran" in the subject line and tell us why you would like to go.