Behind the Scenes of Kong: Skull Island with Brie Larson and John Goodman
Brie Larson as Mason Weaver in Kong: Skull Island (Warner Bros.)
Brie Larson, who won the Academy Award last year for Room, may be the most polite person in Hollywood. It is easy to imagine her composing handwritten thank you notes to everyone who does her any favor. In contrast, the veteran character actor John Goodman is a blustery joker ready to entertain at any moment. The two star together in Kong: Skull Island and make an entertaining team both on-screen and off. Their banter has the rhythm of a sharp sitcom, which makes sense considering Goodman's many years on "Roseanne."
"You can't beat old King Kong, you fall in love with him. He's a nut! It's a Beauty and the Beast type of thing, which I don't think we had in this movie," Goodman explains.
"A beauty, for sure."
"Stop it, you're turning my head!" Goodman immediately quips at his co-star, vamping like an ingenue.
Together, Larson and Goodman seem to perform a routine between old pros who have practiced it for years, despite working together for the first time when Kong: Skull Island filmed last year. It was not the first time the two actors worked on the same film, though. In the Mark Wahlberg remake of The Gambler, the two worked on separate days and thus shared a trailer, which Larson discovered when she found a toothbrush kit engraved with Goodman's name.
"I had a clue that I was sharing the trailer with someone way more talented than me, because that trailer was so much bigger than I would ever get," Larson explains.
"It was big?"
"It was big to me. Not that size matters," Larson backtracks, realizing she fell right into that double entendre.
Between Larson and Goodman, the jokes keep flowing at every opportunity. When Larson is asked how she bonded with co-star Tom Hiddleston on set, Goodman immediately interjects, "We kissed the first time we met." After Larson explains that she had a framed poster of the original King Kong in her living room, Goodman deadpans "You're a spooky little girl." And after Larson recalls the contrast between working in the jungle last winter and the weekends spent in designer dresses at awards shows with the self-deprecating comment, "I'm amazed that I pulled off that I'm well-groomed and polite," Goodman interjects, "We didn't even know she was a girl for the first month!"
The good humor of both actors likely made the Kong: Skull Island shoot in Vietnam, Hawaii and Australia bearable, since the conditions were often so harsh.
As Larson explains, "On weekends I'd go to the Golden Globes and have hours of getting scrubbed and painted, and you feel like this beautiful doll, and then on Monday the crew would say ,'Congratulations, you have to fall in the mud face down, and here's a cheeseburger.' It was a huge dichotomy in my life, but it felt great."
Larson helped ease the difficulty of the film shoot by arranging various activities for the crew on those rare weekends in which she wasn't collecting her various prizes for Room.
"We called them Brie-kends," Goodman explains, and these included trips to zoos, laser tag and amusement parks, even playing with baby koalas during the Australia portion of the shoot.
The shoot may not have been under ideal conditions (The worst part for the younger cast members, Goodman notes, was not having access to cell service.), but the final product is a surprisingly entertaining action film with original character notes. It is the King Kong movie that nobody knew that audiences needed.
But no one can market the film better than John Goodman, who breaks it down in a way that the giant ape would understand. "Movie good. See movie. Pay TV bad! Don't drunk fluoridated water."
Kong: Skull Island is in theaters March 10.
Video Slider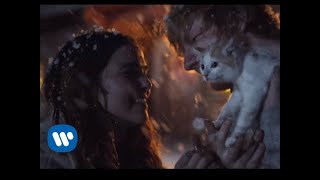 Win Tickets to See Ed Sheeran at the Rose Bowl
Ed Sheeran is back in Los Angeles, and your chance to see him perform is at the Rose Bowl in Pasadena on Saturday, Aug. 18. We are giving away complimentary tickets to the show. For a chance to enter to win, email us at info@lol-la.com with "Ed Sheeran" in the subject line and tell us why you would like to go.