The Best of the Best at Los Angeles Food & Wine Festival
Tasting Passmore Ranch's Caviar Cone at L.A. Food & Wine was amazing. (David Tobin/LOL-LA)
Los Angeles is already the music capital of the world. The best of the best come here to throw down and work with others who have shaped the culture of sound.
Now, Los Angeles is on the brink of taking the food crown as well.
To celebrate the world of culinary delight, the Los Angeles Food & Wine Festival descended onto the town once again. This annual tradition is something everyone in the city looks forward to regardless of your level in the kitchen.
The following is a breakdown of some of the highlights presented at the Lexus Grand Tasting at the Barker Hangar in Santa Monica:
Champagne – Lots of options for the bubbly at the event, but the offering from Henriot was excellent. It had a nice finish and not too much of a bite. The Brut was stronger as expected, but this had the true flavor of a champagne that you want. The sweet notes were there, but it gave you the dry texture that let the bubbles take shape and bring the flavor full circle.
Beer/Cider – The usual suspects from Los Angeles were present, but I was missing the selections from the Arts District Brewing Co. They have some amazing options. To hold me over, it was the Stella Artois booth. They had their beer, but it was the cider that took the win. Everyone was grabbing it by the full glass. It's hint of holiday flavors with a light body give you the option of partaking of it in summer and winter. Also, the alcohol content is higher than their beer, so there's that, too!
Wine – Oh man, so much wine. So much wine that it was almost impossible to try them all, but that's why I'm a professional and went through the paces for you. The one thing that was interesting was that there was a very large amount of companies from Australia. I've had wines all over the region, and they do have a nice taste, but a far cry from the Spanish and California ones I've come to love. But with every option there is an exception, and this one stood out: the Wallace by Ben Glaetzer. The name itself was awesome as it's a throw to William Wallace, whom you might recall from Braveheart, but the product itself was fantastic. The Shiraz Grenache isn't my go-to, but this had such flavor, such tone it was hard to put down. A very nice surprise amongst a lot of standards that we all know well.
Liquor – Not a ton of options at this event, but Hendrick's gin reminded me why it's such a great mixer and standalone for refreshing and potent beverages. The earthy flower tones and perk that any concoction presents were lovely. It pushed itself past some very impressive tequilas as its versatility created more options for a palate than any other offering at the event.
Food – So. Much. Food. I'm not going to narrow this down to just one, but instead mention a few that you have to go check out here in town.
Jon & Vinny's win for pizza.  Get the White Lightning and thank me later. However, don't tell your trainer I sent you. They are gonna hate me for that.
Phorage had the craziest and my fav of the day: Dungeness Crab Congee with Uni Butter. Yes, uni butter. This is a thing. I love uni, but in this form it was unreal. I hope to see Chef Perry Cheung do more with this ingredient soon. Such a good idea.
To combine two great spots in Studio City, you just need to go to Black Market and Salt & Straw. They had some delicious tastings, but as someone that's been to both places, you need to go. They have some unique creations and simple savory plates [at Black Market]. Both are a must and have easy valet or parking if you aren't going to use a taxi to get there.
Outside of Los Angeles, the winner was Passmore Ranch with their Caviar Cone out of Sacramento. Holy shit, this was amazing. You put the bite-sized cone in your mouth all at once and instantly get transported to heaven. It was such a witty take on some snobby food items, and it just worked. I was skeptical, but the pine nut mix with the melon and caviar just made sense.
That's my highlight reel of the event. If you have any additions, please put them in the comments below. Stay tuned for more food reviews and a big feature for next year's epic event.
Video Slider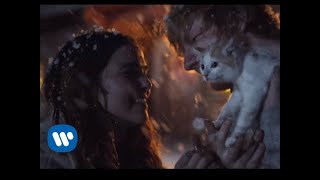 Win Tickets to See Ed Sheeran at the Rose Bowl
Ed Sheeran is back in Los Angeles, and your chance to see him perform is at the Rose Bowl in Pasadena on Saturday, Aug. 18. We are giving away complimentary tickets to the show. For a chance to enter to win, email us at info@lol-la.com with "Ed Sheeran" in the subject line and tell us why you would like to go.