Black Rabbit Rose Marries Cocktails and Magic
Smoke 'n' Mirrors from Black Rabbit Rose (Jakob Layman)
Well, the Houston brothers have done it again. They have brought us an all-new hit bar. The Houston brothers are known for bringing Angelenos such hot spots as Harvard & Stone, Pour Vous, Good Times at Davey Wayne's and No Vacancy. Their new bar is called Black Rabbit Rose, and it comes with a twist.
Black Rabbit Rose is a magic-themed bar that opened up last week in the heart of Hollywood, right on the corner of Hollywood Boulevard and Hudson Avenue. The bar set up shop where Butchers and Barbers used to reside. This corner is also home to No Vacancy and Dirty Laundry, two other Houston Hospitality-owned bars.
When arriving at Black Rabbit Rose, a friendly door guy – who more than likely is a magician – greets you. There is no visible sign for the bar, just a black door with a rabbit head. The bar walls are covered in brick with painted-on stencils of historically famous magician Chung Ling Soo, most known for his bullet catch, which in turn, ended his life.
The bar is dimly lit and slightly on the smaller size. If you are looking for my opinion, I would say the size of the bar is perfect when you think about how many guests are there to attend the ticketed show.
The drinks at Black Rabbit Rose are created by some of Los Angeles' finest mixologists. While attending Black Rabbit Rose, I tried a couple of these tasty drinks. I am usually an Old Fashioned kind of guy so my go-to at Black Rabbit is definitely the Freddy Naf. Containing rye whiskey, tamarind, angostura bitters and a flamed lemon peel, the Freddy Naf is one tasty twist on the classic Old Fashioned. Another drink I tried was the Drunken Noodles, which contains tequila, aperol, blood orange, Peychaud's bitters, chili salt and luster. The drunken noodles is a drink you get to eat with chopsticks, and that is all I can really say about the drink.
Of course, I saved the best part for last: the shows. When entering the showroom, you are guided in by a host whose main job is misdirection. You think the room is one way, but nope, you are definitely wrong. This shouldn't surprise you when most of the Houstons' bars are famous for their secret entries. The shows are booked by one of my favorite magicians, and good friend, Rob Zabrecky. Just google him. I'll wait…
The shows are made up of a variety of talent from burlesque, to magic, to cabaret lounge singers and much, much more. The shows are 45 minutes of wild entertainment. And if you are lucky you may even get to see the great Rob Zabrecky perform!
Black Rabbit Rose is located at 1719 N. Hudson Ave., Los Angeles 90028. For more information, visit blackrabbitrose.com.
Video Slider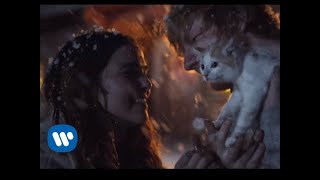 Win Tickets to See Ed Sheeran at the Rose Bowl
Ed Sheeran is back in Los Angeles, and your chance to see him perform is at the Rose Bowl in Pasadena on Saturday, Aug. 18. We are giving away complimentary tickets to the show. For a chance to enter to win, email us at info@lol-la.com with "Ed Sheeran" in the subject line and tell us why you would like to go.