Blast From the Past at the Greek with SWV, Blackstreet and More
Get ready to sing along with SWV to hits like "I'm So Into You" and "Weak."
Summer in Los Angeles can be a really fun time if you know where to look and go. Movies in the park, food festivals, summertime fairs and, of course, music. There are some pretty cool venues that host an array of artists, and the Greek Theatre located in Griffith Park is one of the best.
Located in the middle of the park, enclosed in trees is the Greek Theatre that seats 5,900 guests. That may sound like a large number, but the theater provides an intimate feel that allows you to connect with the artist in both an auditory and visual way.
The upcoming Independence Day weekend is going to be kicked off with 94.7 the Wave's Soulful Summer lineup. On Friday, July 3rd, those who like to sing along and dance to their music are going to rush to get tickets to see groups from the late '80s and early '90s sing their favorite tunes. Blackstreet, SWV, Troop, Tony! Toni! Toné! and Ginuwine are all set to perform their hits.
This concert is for one night only and one that I am literally counting down the days to see. To get to sing along to some of my favorite hits like "I'm So Into You" by SWV or "Before I Let Go" by Blackstreet brings sheer joy to my face. This concert is one where the crowd will be in unison singing along together and reliving memories from a time of music long gone where lyrics mattered!
These artists' songs were used in so many movies to create some of the most memorable moments that are permanently seared into our minds. Boyz n the Hood, Waiting to Exhale, Magic Mike, Do the Right Thing and New Jack City are just a few of the films in which all of these artists have had one of their hits used.
To get to sing along to "It Never Rains (In Southern California)" by Tony! Toni! Toné! is going to especially hit home because it rarely does. Or "Weak" by SWV, which is a women's anthem, is going to be sung aloud echoing through the trees of Griffith Park.
Friday, July 3rd, I am personally going to be seated in the Greek Theatre with 5,899 other concertgoers ready and waiting to check out the Wave's Summer Soulful lineup!
For tickets and more information, visit greektheatrela.com.
Video Slider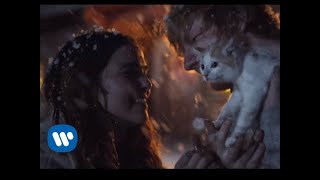 Win Tickets to See Ed Sheeran at the Rose Bowl
Ed Sheeran is back in Los Angeles, and your chance to see him perform is at the Rose Bowl in Pasadena on Saturday, Aug. 18. We are giving away complimentary tickets to the show. For a chance to enter to win, email us at info@lol-la.com with "Ed Sheeran" in the subject line and tell us why you would like to go.