Brits Conquer the Hollywood Bowl with Wit, a Boy and a Culture Club
Culture Club made the Hollywood Bowl laugh and dance for joy
Throughout history the British have exported many important people, ideas and, of course, culture to the world. In America we received from them the pilgrims, the Magna Carta, the British music invasion of the 1960s that included the Beatles as well as subsequent waves of artists, films – you name it.
On Friday, Aug. 26, the Brits were at it again with a two-prong, cultural attack for the near-capacity crowd at the famous Hollywood Bowl. They were armed with an eclectic, funny and very entertaining program which mixed Classical Music with 1980s pop.
The evening began with a very proper, high-brow first half that included several works by important English composers from the 16th to mid 20th century at the hands, or should I say the baton, of Maestro Bramwell Tovey and the Los Angeles Philharmonic. One of the most famous and endearing traits of the British people is their wry and dry humor which was well represented in the hilarious and witty repartee that Tovey had with the audience.
Humor aside, his rendition of "Pomp and Circumstance March No.1" (aka the Graduation Walking March) was crisp, regal and reminded all in the audience the origins of one of the most popular songs heard during graduation season. This was followed by the beautiful and delicate Fantasia on "Greensleeves" by Ralph Vaughan Williams who borrowed heavily from the traditional English folk song "Greensleeves" credited to King Henry VIII who ruled England in the early 16th century. A final piece, "The Dam Busters March," composed by Eric Coates for the 1955 British war film The Dam Busters, was grand, lyrical and tuneful.
After intermission came Boy George and his Culture Club who have sold more than 150 million records, won a Grammy Award for Best New Artist in 1984, multiple international awards and have reunited again since 2014. To the delight of the audience, all original members were present: Boy George (vocals), Roy Hay (piano/guitar/vocals), Mikey Craig (bass/vocals) and Jon Moss (drums). To augment their sound, they were joined on stage by Tovey and the L.A. Phil, as well as a terrific assortment of musicians that included John Themis (musical director/guitar/vocals), Richie Stevens (percussion), Carl Hudson (keyboards), David Liddell (trombone), Reuben Fowler (trumpet/flugelhorn), James Gardiner-Bateman (saxophone) and the three incredibly talented backup singers: Theresa Bailey, DeeDee Foster and Traci Brown-Bailey.
A lot has happened to Boy George (born George Alan O'Dowd) in his 55 years of life; from the fame and fortune of Culture Club in the 1980s to his downward spiral into drug abuse and even jail time in 2009. But that was in the past, because judging by the energy and focus that he put in this set of greatest hits, the Boy is BACK!
Instead of the androgynous looks of his Culture Club days, our Boy came out in a series of suit/hat combinations printed with lots of "Os" (hugs) and "Xs" (kisses) – an obvious message sent to his adoring fans. The first on the hit list was "The Church of The Poison Mind," which, like its title implies, is influenced by American gospel music. With the help of his three black female backup singers, Boy George gave it that spiritual but defiant edge, as it's a condemnation of the homophobia that exists in many religions. This was followed by the playful, reggae/Latin-infused song "It's A Miracle," ""I'll Tumble 4 Ya" and a great reggae version of L.A. soft rock group Bread's song "Everything I Own."
Although Culture Club's original sound was a mixture of synth pop, rhythm and blues, gospel, reggae and ballads, the song renditions of this tour are more true to the African-American-rooted genres, especially "Move Away" and "Black Money." A touching tribute to the late David Bowie, who passed early this year, was provided by the L.A. Phil and Maestro Tovey: a gorgeous rendition of "Life on Mars?" accompanied by a video of close ups of Bowie's eyes in glam makeup.
Other highlights of the evening included "The Crying Game," the title song of the 1992 Neil Jordan film of the same name recorded by Boy George for the soundtrack, as well as "Like I Used To," the first song to be performed off a new, upcoming Culture Club album.
After a thunderous standing ovation, Boy George and Culture Club returned the favor with an encore of their first hit "Do You Really Want To Hurt Me" from the group's platinum-selling debut album Kissing to Be Clever. The song, which remained at the No. 2 spot for three weeks in the USA on the Billboard Hot 100 and at No. 1 on the UK charts, was backed up on screen by the gender-bending, iconic video. So as you can see, our Brits came, conquered and, instead of hurting us, they made us laugh and dance for joy.
Video Slider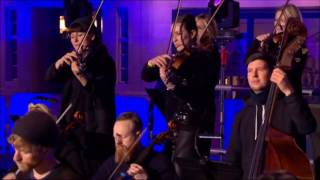 Win Tickets to See Pete Tong at Hollywood Bowl
Pete Tong is back in Los Angeles, and your chance to see him perform is at Hollywood Bowl on Thursday, Nov. 9. We are giving away complimentary tickets to the show. For a chance to enter to win, email us at info@lol-la.com with "Pete Tong" in the subject line and tell us why you would like to go.