Buscabulla: Bringing Caribbean Music Back to the Future
Luis Alfredo del Valle and Raquel Berrios of Buscabulla
The Brooklyn-based Puerto-Rican musical duo Buscabulla like to push the limits of Latin-infused dance music – just don't call them electro-pop.
"I feel like when they call it 'electro-pop,' it just sounds so terrible," says singer Raquel Berrios. "We don't like when they say 'synth-pop,' either."
Whatever you want to call it, it's a combination that works.
Berrios, who fronts the group alongside her partner Luis Alfredo del Valle, plays a style of music that is both heavily influenced by chillwave artists like Washed Out, Chromatics and Glass Candy melded with the vintage Latin rhythms of salsa gorda, Cuban psych and '80s Argentinian rock music of their native country.
"We say its Caribbean music of the future," Berrios laughs. "[Our music] always has some kind of Latino or Caribbean element to it."
The duo recently released their aptly titled second EP, II, in January and have already been on the radar of many music publications across the country. Though their 2014 EP, Caer, was produced by Dev Hynes of Blood Orange, del Valle and Berrios wanted to try their hand at producing this time around.
"[Working with Hynes] was a really cool experience," del Valle recalls. "For this new EP, we wanted to test our own limits and see if we could produce it ourselves and take the helm."
Still, the duo collaborated with experimental electronic producer Roberto Carlos Lange (aka Helado Negro) on the track "Frío," an airy and mellow song in which Lange comforts a homesick Berrios, who sings about New York winters and yearning for her sunnier homeland.
The song has some very somber lines traded between Berrios and Lange such as: "El frío éste duele (duele en tu mente)," which translates to "This cold hurts (the pain is in your mind)."
"The lyrics are about a personal feeling of loving and hating New York," Berrios explains. "Being from Puerto Rico and coming from a very warm, communal place to living in a cold city, which can be applied to the winters here, but it can be a very isolating place, too."
Keeping in tune with their Latin influences, the group's opening track, "Tártaro," pays homage to legendary Puerto Rican singer Frankie Ruiz, who pioneered the salsa romántica subgenre that was popular in the 1980s and early 1990s.
"If you're a die-hard Frankie Ruiz fan, the lyrics are very much inspired by that, but we gave it our own twist," Berrios says.
The hypnotic and sultry song definitely captures the essence of Ruiz' legacy.
"It's a sexy love disco song," Berrios adds. "Like a romantic disco song written for an '80s salsero."
Despite the sensual and relaxed music the two make, the group's live performances are powerhouses of energy.
"People always tell us after we play, 'I've liked your EP, and I always thought it was a cool and chill vibe, but it's a totally different monster when it comes to a live venue,'" del Valle says.
"[Our shows] have a lot of energy. There's a lot more dancing," he adds.
The duo made their L.A. debut last month at a sold-out show at the Echoplex alongside L.A. solo artist Empress Of and  DJ Raul Campos of KCRW, and are looking forward to a string of dates along the East Coast in April before hopefully coming back to Los Angeles.
"We're excited to play LA," Berrios says. "I feel like it's the perfect place for our music."
For more information, visit buscabulla.com.
Video Slider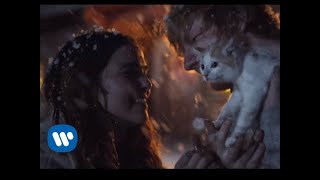 Win Tickets to See Ed Sheeran at the Rose Bowl
Ed Sheeran is back in Los Angeles, and your chance to see him perform is at the Rose Bowl in Pasadena on Saturday, Aug. 18. We are giving away complimentary tickets to the show. For a chance to enter to win, email us at info@lol-la.com with "Ed Sheeran" in the subject line and tell us why you would like to go.