Celebrate Hispanic Heritage Month with Chavela
Chavela Vargas (Ysunza/Music Box Films)
Trailblazer, bold, rebellious – just a few of the words used to describe the woman who broke all sorts of barriers and lived life by her own set of rules. That woman is Chavela Vargas.
The ranchera singer is the focus of the film, Chavela, presented by Music Box Films, which centers around an interview from 1991. Co-director/co-producer Catherine Gund says she knew nothing about the icon until she began working on the project.
"I thought, 'Wow, this woman is amazing,'" Gund says. "The entire project was one big learning process."
Although Chavela was born in Costa Rica, by the time she was a teenager, she was living in Mexico City and singing in the streets. By the 1950s, she was a favorite amongst the bohemian club scene due to her unique voice and raw passion.
"She was a genius at picking the right material for herself," Gund says. "She picked songs that were part of her own story, songs that she identified with. She was an interpreter who had an uncanny ability to bare her entire soul and entire emotional make up. Everything she was, she put it into a song."
Not only was she a stand-out figure as a result of her talent, she also made waves as she challenged the mainstream Mexican morals by wearing pants, drinking tequila, smoking cigars and singing love songs, which were intended to be sung by men who wanted to woo women and refused to change the pronouns. Light years ahead of her generation, she defied gender and sexuality stereotypes.
Chavela's story should inspire everyone regardless of their gender, race or sexual orientation.
"There has never been another character like Chavela. She is bad to the bone. Her life was like a roller-coaster ride," the co-director expresses. "There is something in this movie for everyone, her story resonates universally."
The documentary is a captivating portrait of the singer and her first public appearance that came after 12 difficult years and is significant to Gund as this is her comeback to directing.
"I hadn't directed anything in a long time, and to have my comeback film be so completely successful has been beyond my wildest imagination and is profoundly satisfying," she says. "The film is proving there are no walls between us."
Making her return to the stage at the age of 71, Chavela's comeback began when Spanish filmmaker Pedro Almodóvar helped elevate her career to international acclaim. Any time he introduced her to audiences, he would kneel down to kiss the stage.
Chavela passed away in 2012 at the age of 93, but her legacy lives on, and this film helps keep her memory alive.
Being credited with recording more than 80 albums in her lifetime, Chavela received a Latin Grammy for Lifetime Achievement Award. She also appeared in films like the 1967 movie La Soldadera, Werner Herzog's Scream of the Stone and Julie Taymor's Frida.
Chavela is an important film to watch at any time, but is especially significant during Hispanic Heritage Month. And let's face it, this is a time when we need strong women to stand up for their rights and their beliefs when they're constantly being challenged.
"Chavela has shown that there are no barriers except for the ones we create," Gund states. "The film has wings, and it's soaring around the world."
Chavela is out in select theaters now and the full list of screenings can be viewed at musicboxfilms.com.
Marvin Vasquez contributed to this story.
Video Slider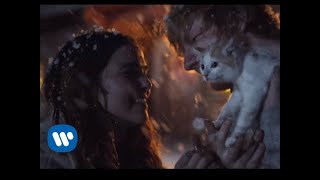 Win Tickets to See Ed Sheeran at the Rose Bowl
Ed Sheeran is back in Los Angeles, and your chance to see him perform is at the Rose Bowl in Pasadena on Saturday, Aug. 18. We are giving away complimentary tickets to the show. For a chance to enter to win, email us at info@lol-la.com with "Ed Sheeran" in the subject line and tell us why you would like to go.