Clever Shadows and Euphoric High at REDCAT's New Original Works Festival
(Courtesy of Steven Gunther/CalArts)
Imagine the time-old campfire pursuit of shadow puppetry–place it in a sophisticated theater, then add some mind-twisting 3D effects, a talented ensemble, and an affecting narrative worthy of Thoreau. That's what you get with 4TRAINS, the shadow theater production that opened REDCAT's 10th Annual New Original Works Festival Thursday night.
Artist Christine Marie's work jumps off the stage in many ways. The blank screen comes to life with a couple in an idyllic wilderness. Soon enough, the male shadow asks the audience to put on 3D glasses, and off we all are into a raging train, the foreboding herald of 19th century industrialization.
4TRAINS' technical feat and sly humor make it an entertaining production, but the storytelling, sans dialogue, leaves the most lasting effect. Christine Marie evokes a nostalgia for the past, deftly using modern technology only to make the audience pine for the long-gone days of childhood camp.
Perhaps closing the night with lighter spirits is Mecca Vazie Andrew's Molly Maps Erratic. A fusion of dance, song and spoken word, it throbs with surprises, from performers zigzagging their way through the audience to full-on disrobing on stage.
The spirit of rebellion in the center of this production materializes into a sort of aural and visual invitation.
Dancers, sporting varied subculture wares (punk, free love, rave), triumphantly embody the excessiveness of youthful energy. The opposite of Christine Marie's 4TRAIN, the delivery outshines the message of "liberation and release" in the wonderful way that it leaves one no room to think, only to marvel and feel. (Not to mention that it magically captures the effect of the title's namesake.) Destructive as it may be, as Molly Maps Erratic shows, by the end of it, you just want to do it all over again.
Video Slider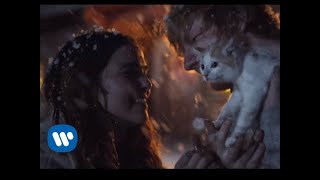 Win Tickets to See Ed Sheeran at the Rose Bowl
Ed Sheeran is back in Los Angeles, and your chance to see him perform is at the Rose Bowl in Pasadena on Saturday, Aug. 18. We are giving away complimentary tickets to the show. For a chance to enter to win, email us at info@lol-la.com with "Ed Sheeran" in the subject line and tell us why you would like to go.