Croft Alley's Breakfast and Brunch Options Are A Must
Egg sandwich from Croft Alley (Courtesy Photo)
Oftentimes when restaurants grow, it is not for the better. In fact, when some food establishments experience growth, that's when things get ugly and mismanagement occurs.
That is certainly not the case with Croft Alley, the chic and marvelously-managed eatery just blocks north of the Beverly Center shopping mall, neighboring Beverly Hills. Croft Alley, which over time has expanded its delightfully exquisite menu, is located on Melrose Place in West Hollywood.
Croft Alley is now experiencing much growth on the customer side (It's packed all the time.) and also in its menu. They are now serving a variety of delicious breakfast and brunch-type options, such as the "the waffle" ($11) – a truly mouthwatering dish served with bananas foster, mixed berries and powdered sugar. Croft Alley's "the waffle" is easily the best waffle in all of Los Angeles.
While Croft Alley's overall success could be a derivative of its delectable dishes, the venue's entire staff is sweet, charming and on-point with costumers. And that's always a plus when you're treated just right, with almost near perfection, and with such pleasant excellence. It makes your dining experience all the better from beginning to end.
Once at Croft Alley for breakfast or brunch, or anytime for that matter, start off with their house-made yogurt ($8), which contains chlorophyll and fresh berries. This is another signature item, and they're proud of offering it as is. Costumers are giving the house-made yogurt rave reviews. I am, too. I love it. It's so refreshing and brightens up your day with every single spoon of yogurt your tummy intakes.
You can then continue your visit with the fresh scramble, $12, (soft scrambled eggs served with avocado and tomato fontina toast) or the breakfast sandwich ($12), which consists of soft scrambled eggs in a wondrous baguette and a side of fresh avocado. Both come with your choice of bacon, prosciutto, turkey sausage ($14) or house salmon ($14).
The shashuka is another option for those spicy eaters, as it sports three baked eggs, harissa, yuzu, cilantro, avocado and jalapeño. And the house salmon (cured salmon and scallion spread) is also a must.
A provocative honey ginger lemonade ($4) or invigorating coconut soda ($3) from their cold beverage section are also musts. And they go well with any dish you select.
Their old-fashioned doughnut at the end of your meal certainly hits the spot. The doughnut contains Madagascar vanilla bean and sour cream, and it can go well with any of their hot teas.
Additionally, Croft Alley is partnering with Melrose Mixology in bringing natural healing infusions and unique and elevated tea recipes. Try the black rose tea latte (iced or hot) at $6 or the "Croftee" ($4.50), a coffee alternative that carries a variety of items, such as Chinese pu-ehr black tea, cocoa, dark chocolate, cinnamon, yerba mate, almonds and more. It's tasty!
All in all, Croft Alley is Los Angeles' secret tiny gem. Go there. Now!
Croft Alley is located at 8428 Melrose Place, Los Angeles 90069. For more information, visit croftalley.com.
Video Slider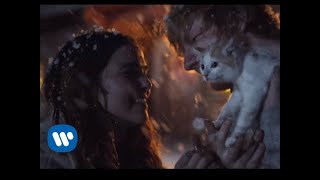 Win Tickets to See Ed Sheeran at the Rose Bowl
Ed Sheeran is back in Los Angeles, and your chance to see him perform is at the Rose Bowl in Pasadena on Saturday, Aug. 18. We are giving away complimentary tickets to the show. For a chance to enter to win, email us at info@lol-la.com with "Ed Sheeran" in the subject line and tell us why you would like to go.