Cuba's MalPaso Dance Company Takes Another Giant Step Towards International Recognition
Malpaso impressed at the Dorothy Chandler Pavilion on Saturday.
Back in April of 2014, I read an article about African-American choreographer Ron Brown traveling to Cuba in order to work with a new dance company called MalPaso, which translates to 'misstep.' Founded by Cuban dancer and choreographer Osnel Delgado, along with dancer Daileidys Carrazana and Fernando Sáez, it was created in 2012 as an offshoot of Cuba's Danza Contemporanea de Cuba and is the first independent, non-government controlled dance company allowed on the island. In its short four years of existence, it has toured abroad to great acclaim and is currently an associate company of New York's famous Joyce Theater.
On Saturday Dec. 2, MalPaso finally made its way to Los Angeles' Dorothy Chandler Pavilion for two performances as part of Glorya Kaufman Presents Dance at the Music Center. The performances were sponsored by the Getty's initiative/festival Pacific Standard Time: LA/LA, which "is a far-reaching and ambitious exploration of Latin American and Latino art in dialogue with Los Angeles."
The evening began with "24 hours and a dog," choreographed by Delgado with collaboration from the dancers, as stated in the program. Live music was provided (and mostly composed) by Grammy winners the Afro Latin Jazz Ensemble, headed by Cuban-American musician and composer Arturo O'Farrill, son of the late Arturo "Chico" O'Farrill, one of the pioneers of Latin jazz.
Comprised of seven segments, the piece began with Delgado seated center stage as though he had awakened in a fast-paced world of Afro-Cuban music and rhythms joined by two couples. Subsequent segments involves different groupings and themes, all executed by the talented 11-member company with precision and that famous Cuban musicality. The choreography was a blend of Afro-Cuban movements combined with modern dance, street moves and a touch of ballet. The costumes by Eric Grass had a relaxed, street wear feel that, along with lighting by Al Crawford, implied an urban context without literal imagery.
Second on the program was the world premier of "Face the Torrent," a commissioned piece by the Music Center from choreographer/dancer Sonya Tayeh, who is well known for her Emmy-nominated work on the television competition program "So You Think You Can Dance." This stunning work began with eight of the company dancers in a row facing the audience. As they moved towards the front of the stage in unison but at a slow-motion pace, the effect was mesmerizing. No sooner did they begin their slow walk, than one of the dancers (Abel Rojo) who was the middle of the row began to exhibit movements as though he was in pain, but was ignored by the pack, except for Daileidys Carrazana who tried to help him. Rojo was absolutely arresting in his body control during this segment as well as in subsequent appearances in the piece.
It seemed that Tayeh was taking the audience to a dark, minimalist world full of shadows, fears and whispers as the dancers dressed in black and grey costumes by Karen Young and in stark lighting by Nicole Pearce, inhabited an oppressive world. The very athletic and complex moves had hints of street-dance woven with exciting lifts and modern dance language. The futuristic sounding music and sounds (which included whispers) by Colette Alexander with the Bengsons added to the feel of paranoia and helplessness.
To finish the evening's performance was "Indomitable Waltz" by lauded, Canadian choreographer Aszurre Barton. An exciting work, it had the company dancers in costumes by Fritz Masten, which were black, tight tops and shorts with black socks, highlighting the musculature of their bodies, especially those of the legs. The choreography was full of abstract, athletic, fluid moves, which allowed each of the dancers to show their strength and technique as they lifted each other high in the air or engaged in romantic pas de deux.
After a well-deserved standing ovation, one could feel that this young and very talented dance company is building an international reputation, step by step.
Video Slider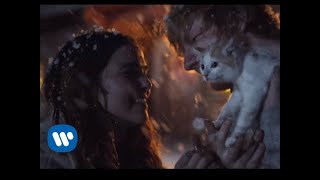 Win Tickets to See Ed Sheeran at the Rose Bowl
Ed Sheeran is back in Los Angeles, and your chance to see him perform is at the Rose Bowl in Pasadena on Saturday, Aug. 18. We are giving away complimentary tickets to the show. For a chance to enter to win, email us at info@lol-la.com with "Ed Sheeran" in the subject line and tell us why you would like to go.