The Delicious Designs of Applepear Handcrafted Jewelry
Applepear's Dawn Earrings in rose gold
Art has always played a role in Priscilla Carreon's life, so it's no surprise that each of the pieces of her Applepear jewelry line is wearable art. The Cornell graduate began her handcrafted jewelry company at the urging of her husband because he knew how much just creating jewelry brings her. Carreon, in turn, loves seeing the happiness that her work brings to others.
Applepear has built a following of women who favor simple, delicate and versatile earrings, necklaces, bracelets and rings. The Applepear founder/designer recently took time to discuss the inspiration and intricacies of Applepear with us.
Living Out Loud – Los Angeles: Why did you decide to use Applepear in the company name?
Priscilla Carreon: I love food and name everything after food. I had a rabbit named Cadbury, a hamster named Truffles and a dog named Tofu.  I love Asian pears (also called applepears) because they're crisp and refreshing. I felt like the fruit had the fresh feeling I wanted my jewelry to have.
LOL-LA: What inspired you to make this wonderful business a reality on your end?
PC: My husband pushed me to make it happen. It's always been my dream to make a living out of something I create. He said making jewelry made me so happy, he wanted to see me make more.
LOL-LA: Your company prides itself as the "perfect balance of modern and sophistication." Please elaborate on that.
PC: My pieces are designed for the modern woman who could be in the boardroom one minute and practicing sports with her kids the next. It's perfect for women who want to look put together without a lot of effort. You can put it on for date night and keep it on through yoga class.
LOL-LA: What's your most popular item? And what would you recommend for those who live in L.A.?
PC: The Dawn Gem Earring is popular year round. It has the convenience and out-of-the-way-ness of a stud, but it's textured, sparkly and colorful.
LOL-LA: Please describe the process of hammering, twisting and shaping the metals to create such beautiful pieces like the Breastfeeding Support Necklace.
PC: People always ask how I make such tiny, detailed pieces. I joke that it's my great eyesight and tiny hands. Each piece has so much attention to detail. Even the hammering is a certain amount of hammering, enough to create texture but not enough to flatten. Getting each piece to be the same size just takes a lot of practice!
LOL-LA: Anything else to add?
PC: I feel like every piece I design is a piece of me. So it gives me so much happiness and pride to see someone enjoying it.
To shop and for more information, visit www.applepearcollection.com.
Yuri Shimoda contributed to this article.
Video Slider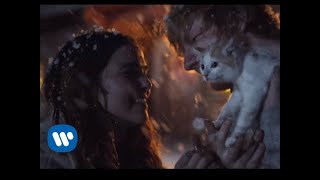 Win Tickets to See Ed Sheeran at the Rose Bowl
Ed Sheeran is back in Los Angeles, and your chance to see him perform is at the Rose Bowl in Pasadena on Saturday, Aug. 18. We are giving away complimentary tickets to the show. For a chance to enter to win, email us at info@lol-la.com with "Ed Sheeran" in the subject line and tell us why you would like to go.