Delicious Pizza Is Your Ideal Spot for Hip Hop and Pizza
Brothers Rick and Michael Ross, co-owners of Delicious Pizza (Courtesy Photo)
Hip hop, check. Pizza, check.
Delicious Pizza offers both to you. The super friendly joint, which now has two locations (West Adams and Hollywood), serves high-quality pizza, hot and cold sandwiches, salads, pastas, wings, brunch items, beer, wine and coffee beverages, among other offerings.
"We've tried very hard to make our pizza as good or better than the best out there, anywhere. Consistency is the key. It's got to be great everyday. Not an easy task. Pizza is fickle for many reasons. The dough is a living, breathing thing. My chef Travis came up with a recipe and method that allows us to make great pizza, but it's a team effort to execute it on a daily basis," says Michael Ross, one of the owners.
The family business was started by father and son duo Fred Sutherland (Fred 62) and Travis Sutherland and brothers Michael and Rick Ross, owners of the iconic L.A. hip-hop record label Delicious Vinyl, the name behind superstar hip-hop acts the Pharcyde ("Passin' Me By"), Tone Loc ("Wild Thing," "Funky Cold Medina"), Young MC ("Bust a Move") and many more.
"The pizza, of course," says Michael Ross when asked about what the most popular item is. "It starts and ends with great pizza."
But for Ross, Delicious Pizza is about much more than that.
"Build a cool family pizza restaurant, serving the local community, make sure pizza is stellar, using fresh ingredients and organic starter not commercial yeast," he says.
Ross adds, "The overall vibe is focused on cool hip-hop from the golden era and pays homage to those artists with an emphasis on Delicious Vinyl for obvious reasons."
Delicious Pizza has two locations, the original headquarters on West Adams Boulevard and the new Delicious Pizza Cafe on Sunset Boulevard in Hollywood.
The Sunset location opened late in 2016 and operates every day from 9 a.m. through 11 p.m. serving breakfast, lunch and dinner. Special events include weekly Delicious comedy night on Wednesday with an open mic and soon to have beer and wine.
The West Adams location has weekend brunch, live music and thirst-quenching craft beers, house wines and funky cold sangria.
For more information, visit DeliciousPizza.com.
Video Slider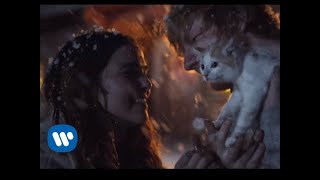 Win Tickets to See Ed Sheeran at the Rose Bowl
Ed Sheeran is back in Los Angeles, and your chance to see him perform is at the Rose Bowl in Pasadena on Saturday, Aug. 18. We are giving away complimentary tickets to the show. For a chance to enter to win, email us at info@lol-la.com with "Ed Sheeran" in the subject line and tell us why you would like to go.