Director, Cast Talk Rings Blu-Ray Combo Pack Release
(l-r) Matilda Lutz, Johnny Galecki, and Alex Roe in Rings (Paramount Pictures)
Before he was even officially signed on to direct the new Rings flick, Spanish director F. Javier Gutiérrez already had something in mind with what what to do with this fresh look at the horror franchise.
"I wanted to create something different than the first two films," says Gutiérrez. "Something modern and for the new generations."
A relatively young cast with lots of social media influences is certainly captured in Rings. One thing Gutiérrez hopes fans see is the visuals of the film itself.
"I hope they appreciate that," he says in terms of the fresh-look horror in Rings. "It was my intent to provide as many visual scenes as possible."
This terrifying new chapter, now available on Digital HD and Blu-ray Combo Pack, features the likes of Matilda Lutz, Alex Roe, Johnny Galecki, Vincent D'Onofrio, Aimee Teegarden and Bonnie Morgan, with Gutiérrez at the helm.
"It is a lot of weight to carry, certainly, for sure," says Roe of being part of this new cast for this highly successful franchise.
"YEAH!" says Lutz. "I mean [replacing] Naomi Watts is like 'whoa' … yes, I did feel pressure to do a good job."
Rings follows a strange college professor named Gabriel (Galecki), along with students Skye (Teegarden) and Holt (Roe) who are part of a deadly experiment: They watch the mysterious Samara video and then must figure out to stay alive (thus, breaking the longtime curse). And what ensues is nonstop thrills and a memorable performance by D'Onofrio.
"The story itself is interesting and complicated, but I love the way it came out," says Roe.
The Rings Blu-ray Combo Pack features over 45 minutes of terrifying bonus content including deleted and extended scenes and an alternate ending.
Additionally, you can go behind the scenes with interviews with the cast and crew as they discuss the new chapter in the iconic Ring franchise.
"Rings is a great opportunity to bring back the franchise to today's generation," says Roe.
But what is super cool about this particular release is that the Blu-ray Combo Pack comes with a bonus Digital HD of both The Ring and The Ring Two, for a limited time only.
Gutiérrez says, "If you fell in love with the franchise since the start, then this is certainly for you. And this is a new look for them, something they will enjoy and like because the scary character of Samara remains alive. But this is movie is also for those who simply like horror and thrills; you don't know have to be aware of Samara and the story to like Rings."
Adds Lutz, "This is a fresh story. Everyone's gotta see it."
Video Slider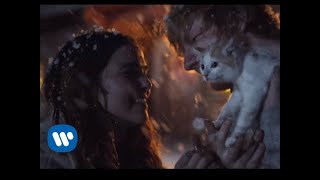 Win Tickets to See Ed Sheeran at the Rose Bowl
Ed Sheeran is back in Los Angeles, and your chance to see him perform is at the Rose Bowl in Pasadena on Saturday, Aug. 18. We are giving away complimentary tickets to the show. For a chance to enter to win, email us at info@lol-la.com with "Ed Sheeran" in the subject line and tell us why you would like to go.