Dos Santos Scores in Debut as Galaxy Edge Depleted Sounders
Galaxy forward Giovani Dos Santos scored a goal in his first MLS match Aug. 9 against the Sounders. (LA Galaxy)
The Los Angeles Galaxy came into Sunday's game against the Seattle Sounders with everything in place to continue their fight for the MLS Supporters' Shield. Not only were they riding a two-game winning streak in all competitions and facing a depleted Sounders squad that was without Clint Dempsey and Obafemi Martins, among others, but this would also be the first time the Galaxy fielded their ideal starting lineup after the arrival of Mexican star Giovani Dos Santos.
The new Galaxy lineup overcame a sloppy start and checked all the boxes en route to a dominant 3-1 win over middling Sounders. There was enough of a vibrant atmosphere due to the arrival of dos Santos; it seemed like that alone would power the Galaxy to a strong start. But just 49 seconds into the game Chad Barrett put the visiting side ahead after a through pass from Erik Friberg caught the Galaxy defense sleeping and found the left foot of Barrett, who easily beat newly-acquired Galaxy goalkeeper Donovan Ricketts from inside the six-yard box.
Barrett pulled his right hamstring in the ensuing celebration and had to leave the game.
"Obviously very disappointed for [Barrett]," said Sounders defender Brad Evans after the game. "He scores a brilliant goal and celebrates and gets injured. It's just one of those things. Everything is not going our way in that sense with hamstrings, but I think after that the boys were spot-on."
The Galaxy controlled possession immediately after the goal and for the remainder of the half, and in the 13th minute Gyasi Zardes made things level again with a nifty shot past Stefan Frei on a cross from Juninho following a corner. Despite being to the left of the net, Zardes kicked the ball with the outer part of his left foot and just managed to put it past the diving Frei.
"[It] was really challenging for the players and for our team to concede a goal early and have to fight back in these conditions," said Galaxy head coach Bruce Arena. "I give them a lot of credit; it was a pretty good effort."
Despite the fact that Los Angeles had most of the ball possession in the opening half, their lack of fluidity offensively and lack of organization defensively, coupled with Seattle's dangerous attack made for an even number of chances for each team at the break.
The script was reversed in the second half, as the Galaxy went ahead inside two minutes thanks to a heads-up play by A.J. DeLaGarza.
DeLaGarza was on the right flank, deep in Seattle territory, when he beat his defender to the ball, drove toward net and found Dos Santos, who tried to control the ball to set himself up for an easy goal inside the six-yard box. Instead, the ball bounced off Dos Santos and into the path of Robbie Keane, who one-timed it into the net from point blank to give the Galaxy the lead.
However, Dos Santos would not let another opportunity slip away. The Mexican National Team forward made it 3-1 in favor of the Galaxy on a left-footed blast in the 64th minute after receiving a through ball from Keane.
"Robbie Keane is a great teammate," said Dos Santos. "I am very thankful for the assist, and he has always shown me his affection and I am very thankful. It is always a pleasure to play next to him."
From that point on the Galaxy held a firm grip on the game. They had a few opportunities to score their fourth (particularly a tap-in by substitute Alan Gordon in the 72nd minute, which he bounced off the post) but in the end the Sounders were vastly outmatched by their Western Conference foes.
"I see a lot of possibilities," said Dos Santos about the team's potential moving forward. "We can achieve every goal that we want. We have a great team with a great attitude, great players. We are looking forward to have a great year and hopefully we can win a title."
Arena had a more subdued response to the potential of this team, but nonetheless conceded his pleasure with the weapons at his disposal.
"We have a long way to go," he said. "We've played 25 different lineups in 25 different games, so I don't know what we are supposed to envision but it'll take some time with our group playing together."
Sunday's win puts the Galaxy in second place in the Western Conference with 40 points, two points behind the Vancouver Whitecaps, though Vancouver has played one less game.
The Galaxy look to catch the Whitecaps next Saturday, Aug. 15 at 6 p.m. PT when they take on FC Dallas at Toyota Stadium live on Time Warner Cable SportsNet and Time Warner Cable Deportes.
Video Slider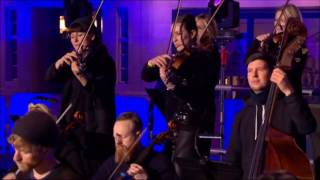 Win Tickets to See Pete Tong at Hollywood Bowl
Pete Tong is back in Los Angeles, and your chance to see him perform is at Hollywood Bowl on Thursday, Nov. 9. We are giving away complimentary tickets to the show. For a chance to enter to win, email us at info@lol-la.com with "Pete Tong" in the subject line and tell us why you would like to go.