Eight Exciting Facts About Guardians of the Galaxy Vol. 2 From the Cast
Zoe Saldana, Karen Gillan, Chris Pratt and Dave Bautista in Guardians of the Galaxy Vol.2
During the recent press tour for Guardians of the Galaxy Vol. 2, the film's cast and creative team talked to journalists about one of the Marvel Cinematic Universe's most anticipated sequels. Director James Gunn, along with his ensemble that includes Kurt Russell, Chris Pratt, Zoe Saldana, Karen Gillan, Dave Bautista and Sean Gunn revealed a lot of fun tidbits about the making of the film and what we can expect from their characters this time around and in the future.
Check out these highlights from the conversations including what it's really like to meet your heroes, how Gunn got Bautista to laugh and whether or not Nebula is really a villain.
1) Writer-director James Gunn came into GotG Vol.2 with a lot more confidence than when he tackled the first film and emphasized making the characters more true to his vision while remaining in line with what fans loved the first time around.
"They gave me complete freedom on both movies. On the first movie, I think that I was a lot more timid, frankly. I took my first draft and I went to Kevin–and Joss Whedon was there, and there was a lot of humor in there. I was afraid that I was pushing the comedy, that it was too funny, and Kevin [Feige, producer] and Joss [Whedon] said, 'Make it more James Gunn.' And I was like, 'OK, it's your funeral.' But people seemed to like that. And so I thought, 'I'm a little punk rock kid who likes sort of edgy stuff. What I like may not be what the entire world likes.' But I've come to trust that what I like is what works," Gunn shares. "So yes, I had a lot more freedom on the second movie, but most of it I feel like was from myself just allowing myself to completely go there with the story and not stop myself at any point from fear of alienating people. I wanted to be as true to the artistic vision and especially as true to the characters as possible in this film."
2) Kurt Russell didn't know much about Guardians of the Galaxy before taking on the role other than he was a fan fave contender for Star-Lord's dad Ego (the Living Planet) so while Disney had the connections to get him in talks, it came down to how he reacted to the story.
"When I read the script I wanted to make sure I was kind of understanding it correctly, and I hadn't seen the first movie. I'm not much of a moviegoer. I knew that everybody loved it, though. One day I was doing The Hateful Eight stuff, and all of a sudden, boom, boom, boom, boom, my phone and the people around me are saying, 'Are you gonna be Star-Lord's dad? Are you gonna be Peter Quill's father, and are you gonna do Guardians of the Galaxy?' I just was like, 'Guys, I don't really know what they're talking about,'" says Russell. "When I saw the movie, I immediately started getting it. I also immediately started wanting to do it. What you don't want to do is do something that's gonna make them not like the second one, right?"
3) Chris Pratt reacted like all of us would if they met one of their celeb icons when getting to work with Russell.
"There's this thing that happens every time you meet someone who's an icon, someone that you've known way longer than they've ever known you. You've seen all their stuff, and you have this opportunity to work with someone like Kurt Russell. You promised yourself you're not gonna do the thing where you geek out, but it's a little inauthentic if you don't. So I think I did that immediately, and it doesn't really take that long to tell someone that you really love them, you really respect their work, and for them to go, 'Yeah, thanks,' and then, that's it," says Pratt. "At that point, you move forward, and there's this really cool thing that is probably the one thing I never would've imagined looking for when I first moved to Hollywood, but the greatest, the greatest part of it, is you become somebody's friend and somebody's peer rather than a fan."
4) The film features more than one iconic actor, Sylvester Stallone makes his Marvel debut as Stakar, a ravager who in the comics is one of the original members of the Guardians of the Galaxy along with Yondu. Their team was an earlier incarnation. The actor shares what made him super excited to join the superhero world.
"Well, you know … early on in my career I just always became fascinated with mythology, Joseph Campbell, Man of a Thousand Faces and so on and so forth. So when I started doing Rambo, [I realized] there was an evolution that takes place, and each generation has to define itself and find its own heroes and find its own mythology," says Stallone. "This is the new, this is this generation's and maybe even the next generation's mythology. When Kevin invited me onboard, I said, 'This is interesting because I haven't gone here.' I mean, I'm kind of earthbound. I'm terrestrial."
5) Zoe Saldana loves that the film brings us more of the badass dueling sisters, Gamora and Nebula. Through them, women not only get more representation on screen but also see just how their roles expand on their relationship to each other and to their father, Thanos.
"I think that what I loved the most – and it may sound selfish – but definitely the relationship between Gamora and Nebula. I'm one of three sisters; I have been itching and yearning to see more of a female presence in action films because I love action films. I'm not that deep. I love watching The Equalizer, and I'll watch that 50 times over any kind of dramatic piece," Saldana confesses. "I was appreciative, super excited and, in a way, anxious because I know that Gamora is a much more reserved character. James is like, 'You're like the Clint Eastwood of the movie,' And to have a film with three, three female characters that are adding such unique qualities to the film [makes it] very relevant, and their relationships are explored deeply."
6) Thanos was built up as the biggest bad guy that's been working behind the scenes to collect the Infinity Stones for his gauntlet, and early in GotG Vol. 2 Nebula reveals that her drive is to exact revenge against him. Actress Karen Gillan teased what we could expect from her character and asserted that she's totally justified.
"Oooh, well, no spoilers. I just feel genuinely so invested in this character. I care so much about her. I feel like I'm her lawyer, and I'm here to explain to everyone why she's justified in being a really mean villain, and she is," Gillan explains. "For me, that is just to do with her backstory and her relationship with her father and her sister. I was just so excited to explore that in the second movie, in such, that I felt so lucky to get to portray that side of her.  And what's she going to be doing next? You'll have to wait and see. I'm not saying anything. Cool stuff."
7) Dave Bautista once again brings brawn, lots of heart and bigger laughs to Drax. What may come as a surprise is how Bautista didn't know he had it in him to be as spirited as his larger-than-life character, and that it takes Gunn's guiding hand to help him tap into the outrageous sensibilities of 'the Destroyer.'
"Everybody knows that I'm a very understated person. I'm a little soft-spoken. But James is very big on Drax being larger than life and projecting. He's constantly telling me, 'Project.' Also my eyes, it really irritates the hell out of James. I have this nervous energy, so my eyes wander constantly. And he'll go, 'Stop doing that!  Stop doing that! Just pick something and focus on it.' I'll just try to stare at something else, start delivering, and he'll say, 'Project. Project louder,'" says Bautista. "Well, that's just, you know, he helps me create that character.  And the laugh we came about just by complete accident. It just happened. I was laughing, and he said, 'Can you do it louder?' The louder I started laughing, the louder I could hear him laughing. So he just was doing it to amuse himself. The bigger it got, the louder he laughed. So I just kept, you know, bigger and bigger until I lost my voice."
8) Sean Gunn, brother of James Gunn, not only plays the ravager Kraglin but is also the motion capture performer for Rocket Raccoon. He is a major help to the cast to have someone to work off of. It only got tricky when his characters were in the same scene.
"Well, it's interesting. I played two roles in the movie. When you act, there's both the input and the output. The input is the work you put into it and what you do on set, and then the output is what you see onscreen. So for me, the input is very similar for both characters, but the output is totally different because it takes a whole team of people to make Rocket. I'm just a member of that team," he says. "But it's interesting in this movie because Rocket and Kraglin have a few scenes that they're in together, so juggling the two things was a very strange and challenging experience for me. But I love it. I love both characters, and I'm just really grateful to be a part of it."
Guardians of the Galaxy Vol.2 is in theaters May 5.
Video Slider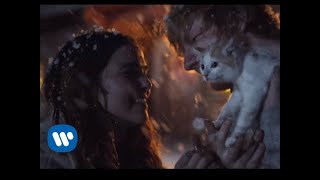 Win Tickets to See Ed Sheeran at the Rose Bowl
Ed Sheeran is back in Los Angeles, and your chance to see him perform is at the Rose Bowl in Pasadena on Saturday, Aug. 18. We are giving away complimentary tickets to the show. For a chance to enter to win, email us at info@lol-la.com with "Ed Sheeran" in the subject line and tell us why you would like to go.