Ektor Rivera Dances for a Good Cause on "Mira Quien Baila"
Ektor River is ready to strut his stuff on "Mira Quien Baila." ("Mira Quien Baila"/Univision)
If you're in need of a show to add to your Sunday night line-up, Univision's mega-hit celebrity dance competition, "Mira Quien Baila," ("Look Who's Dancing") might just be what you're looking for.
Premiering tonight, 10 celeb contestants take the stage to show off their moves while competing for a $50,000 donation to the charity of their choice. Not only are they providing entertainment for the audience, they'll be representing charities that focus on helping with childhood cancer, music education and animal cruelty, to name a few.
Stars like Pablo Montero, Marlene Favela, Victoria "La Mala" Ortiz and more can be seen on tonight's premiere. This season, judges Roselyn Sánchez, Johnny Lozada and Poty Castillo provide their commentary and expertise for each performance. As for hosts, Chiquinquirá Delgado and Javier Poza take the lead.
Puerto Rican singer, actor, artist and Broadway veteran, Ektor Rivera is also among the contestants. Having starred as Emilio Estefan in "On Your Feet!," Rivera knows a thing or two about performing on stage. Likewise, he appeared as one of the lead singers in the USA TV and Live Show "Q'Viva! The Chosen."
Speaking of his Broadway experience, he says the discipline and daily performances required make him feel comfortable with the filming and rehearsal schedule of the competition. When it comes to his dancing skills, Rivera comments, "I know the basics. I can move and have rhythm, but the technique [of being graceful] is something to learn."
As a fan of the show, Rivera says he's excited to work with the choreographer Rodrigo Basurto and the network. And while he's excited about the opportunity to be a part of the hit program, he's most proud to bring awareness to Cabecitas Rapadas, the charity he's dancing for.
Cabecitas Rapadas was founded in 2008 to provide help and cover medical costs for cancer patients when the government and medical plans are unable to. Because of the fact that most patients in radiotherapy and chemotherapy end up losing their employment due to their illness, a charity like Cabecitas Rapadas does more than simply assist economically, it offers a sense of at least some relief and comfort to the patients and their families.
"You never know when it can happen to you," Rivera says. "From psychological help to transportation, the organization provides all kinds of help."
The donations received are all from the Private Enterprise and individual donations, not government funding, so a $50,000 donation would mean the world.
To watch Rivera's journey at the chance to win, tune in Sundays at 8 p.m. Check your television provider for the Univision network. For more information, visit univision.com/shows/mira-quien-baila.
Video Slider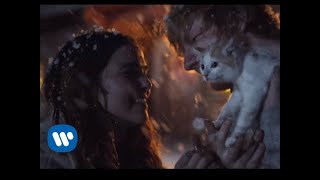 Win Tickets to See Ed Sheeran at the Rose Bowl
Ed Sheeran is back in Los Angeles, and your chance to see him perform is at the Rose Bowl in Pasadena on Saturday, Aug. 18. We are giving away complimentary tickets to the show. For a chance to enter to win, email us at info@lol-la.com with "Ed Sheeran" in the subject line and tell us why you would like to go.