Ex-NBA Star Kareem Rush Discusses Singing Career, Potential Return to Hardwood
Kareem Rush is scheduled to perform at the House of Blues Voodoo Lounge on January 26 in West Hollywood, Calif.
Known for his lethal 3-point shot, Kareem Rush's career in the NBA was drastically cut short by a slew of injuries, most notably tearing his ACL as a member of the Los Angeles Clippers during the 2009-2010 season.
This allowed Rush, a native of Kansas City, to focus on another life-long passion and pursue a singing career. His debut single "Hold You Down" was a Billboard top 40 hit and achieved limited airtime on radio across the U.S.
Rush's song "Focus On Tonight" is in the process of getting licensed by the National Basketball Association (NBA).
In an exclusive interview with Living Out Loud, Rush talks about how he came to pursue a singing career, his inspiration, and a possible return to the NBA.
Living Out Loud: Where did your passion for music come from?
Kareem Rush: Music is something I've always done. It was a passion of mine since before I started playing basketball. I've been playing basketball since I was 9, and so I've always known I had the ability to sing. I sang in a choir in high school, and had some solos there. Everyone who knows me knows how much I sing every day, so it's no surprise I turned to this career. I didn't have the drive to pursue it until I tore my ACL when I was with the Clippers in '09-'10. I linked up with good people with ties to the industry, and decided to do a demo deal. From the first time I stepped into the studio, they liked the way I sounded, and so we recorded the single "Hold You Down," which came out about 2 years ago. That's how it all started.
LOL: What can you tell us about your musical influences over the years?
KR: Growing up, I really liked Boys II Men, Maxwell. I also love Justin Timberlake, Robin Thicke, Usher – those type  of guys. I'm just looking forward to getting my stuff out there again to the music world so people can see what I've been up to this past year.
LOL: If you had an opportunity to collaborate with anyone, who would it be and why?
KR: I love Kendrick Lamar, I like the mix of R&B and Hip-Hop, so if I were to do it would probably be Kendrick Lamar. Also Jay-Z, Kanye [West], one of the big artists. I would also like to do an R&B collaboration with other great artists out there. I just want to get out there and work with as many as I can to legitimize what I'm doing.
LOL: In 2012, you performed the national anthem during the Lakers/Pacers game, what can you tell us about that experience?
KR: It was nerve-wrecking, man. I actually played for both teams, and I was trying to take my mind off performing, so I was trying to talk to friends on both teams. When it was time for me to go on, I just went up there, focused on not messing up. As I got into the song, I just relaxed and had fun with it. I tried to schedule one for this year, but they were all booked up. But I'm definitely going to sing at sporting events this year, and I'll try to sign the anthem at a Clippers game.
LOL: What were some of the challenges when you first moved out here from the Midwest in 2002?
KR: It wasn't too bad, actually. During college, I would come out here to visit my brother every spring break, he went to UCLA. So I was pretty accustomed to the LA culture. Once I was drafted, I was very excited to come out here and live. I've been here ever since. I left the Lakers almost 8 years ago and I still live out here to this day. LA is my home now. Kansas City is where I'm from, but I look at LA as my home.
LOL: What is your single, "Hold You Down" about?
KR: It's about holding down the love of your life. She might be involved in another relationship, but it's about letting her know you'll always be there to hold her down. It also helped me work on my writing skills. The songs I'll be putting out will either be co-written or completely written by me. But this song is just about being there for your woman.
LOL: What inspires you to write your material?
KR: I write about emotions. I'm not immune to the ups and downs of life, so I tend to write about the way I'm feeling. It could be a basketball song where I talk about mentally preparing for the game, or about the good and the bad in relationships. Over the last couple years, I really dove into writing, working on my craft. You gotta put the work in to see results. I approach music like I approached basketball – the more work you put in it, the more you're going to get out of it. I've also been working on getting myself into basketball shape, I really feel I could still play in the NBA or in some high-level league either in Europe or China. I'm just really ready to put myself back out there in the music world.
LOL: In terms of preparation, what's similar and what's different between singing and basketball?
KR: Well, practice. Whether it'd be working with a vocal coach or shooting 1,000 shots in the gym, you gotta put the work in. You have to train your tool. I've always been a natural singer, but when you're performing you have to be able to sustain for 30, 45 minutes to an hour. So I'm still working on breath control, and the small details about singing. I'm just learning from teachers and developing my craft. I want to be the best singer I can be. If I continue to work on it, I'll be able to do great things.
LOL: What's your take on fashion, especially now that you're embarking on this new career?
KR: My fashion reflects how I feel. I don't follow trends, I feel like I'm my own trend-setter. I have a classic look and I stick with that. I dress how I feel, and that's the most important part of being an artist – being an individual.
LOL: You used to play for the Lakers; how do you feel about what the organization is going through at the moment?
KR: There's been a change, obviously, since the death of Dr. Buss. There will be ups and downs, and unfortunately they're going through a tough time right now and gone through several coaching changes in the last few years. And with Kobe being out, it's just messed up. So they'll take this time to revamp and get prepared for next year. The first part is having Kobe healthy. He's the one who sets the tone for everything they do in that organization. I think they'll eventually be back on top.
LOL: What are some of your favorite hang-out spots here in LA?
KR: My favorite hangout is at the house. I don't go out too much. I did my party thing back in my younger days. Right now I'm just really focusing on my business and the music. I spend a lot of my time in the studio, but I go to the club every now and again. I went to Supperclub the other day. Once I release more music, I'll probably be out a bit more.
LOL: What more can we expect from you for the next few months?
KR: Well I'm putting together my album right now, so expect hearing from me pretty soon. I also put out an NBA video, which I'm currently trying to get licensed by the league. People can find me on my website, Twitter and Instagram.
Video Slider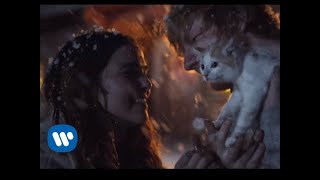 Win Tickets to See Ed Sheeran at the Rose Bowl
Ed Sheeran is back in Los Angeles, and your chance to see him perform is at the Rose Bowl in Pasadena on Saturday, Aug. 18. We are giving away complimentary tickets to the show. For a chance to enter to win, email us at info@lol-la.com with "Ed Sheeran" in the subject line and tell us why you would like to go.