Experience the Dream that is Cirque du Soleil's "Luzia"
One of the most mesmerizing aspects of "Luzia" is the water.
Dodger Stadium has become the current home of one of the most lively and beautiful Cirque du Soleil shows, "Luzia."
Taking place in the Grand Chapiteau, you'll find a world full of magic. The temporary structure seats more than 2,600 and is in town until Feb. 11 before moving onto Costa Mesa.
Cirque du Soleil is known best for their extravagant performances, and "Luzia" definitely lives up to all expectations. Show-goers are transported to an imaginary realm, as if in a waking dream and witness the sounds and looks of both traditional and modern Mexico.
Known for its colorful culture, "Luzia" is jam-packed with visuals, says Francis Jalbert, Director of PR for the show. You'll quickly forget you're in a tent as soon as the performance starts.
Artistic Director, Gracie Valdez explains the opening of the show as exposure to a brand new world.
"Every single time I watch it, it's just a breath of fresh air," Valdez says. "It warms my heart and makes me proud."
"It takes you through a massive span of sets and times, but it's really emotional and takes you through a wide range of emotions," she continues.
The show features 44 performers from 19 countries. While most are acrobats, there are also musicians and puppeteers. One of those performers is singer Majo Cornejo.
For her, being a part of the Cirque du Soleil family and "Luzia" is a perfect match as she gets to "represent a bit of my country, culture, music and people," she says.
Cornejo also explains that she comes from a long line of musicians, and as a result, it became her passion. With a heavy workload of 10 shows per week, and at times more, Cornejo's talents are just one of the many to be witnessed.
High-flying choreography, exquisite costumes (like bright colorful bird outfits) by designer, Giovanna Buzzi, original music, acrobats and more make up "Luzia." One key feature of the show is water.
Not only is the water a major "wow" factor of the performances, it was also one of the greatest challenges to bring to life. Valdez says the research and development of including water into such a large-scale performance and seeing how the artists would be able to react to it was quite a task, but they made it work.
As a result, one of the most mesmerizing aspects of "Luzia" is the water. Aerialists fly and twirl through pouring showers; this level of acrobatic complexity has never before been seen under the Big Top.
"It's fun for us to see the audience's reaction because everyone becomes a child," says Jalbert when describing the water element. "People say it's like a Las Vegas show. It's visually very large. The props put you in a different world during the performance, it's not just an empty stage with acrobats on it. It's a full experience that you're seeing."
Head to Dodger Stadium to see "Luzia" before it's too late and experience all of the thrills and emotions for yourself.
"Luzia" is at Dodger Stadium through Feb. 11. Tickets start at $50 and can be purchased at cirquedusoleil.com/luzia. If you miss out on those dates, Luzia will be at the OC Fair & Event Center from Feb. 21-March 18.
Marvin Vasquez contributed to this story.
Video Slider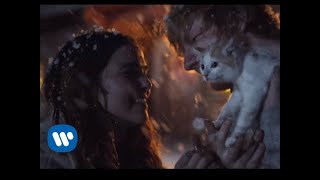 Win Tickets to See Ed Sheeran at the Rose Bowl
Ed Sheeran is back in Los Angeles, and your chance to see him perform is at the Rose Bowl in Pasadena on Saturday, Aug. 18. We are giving away complimentary tickets to the show. For a chance to enter to win, email us at info@lol-la.com with "Ed Sheeran" in the subject line and tell us why you would like to go.