Ferdinand Hits Theaters with All-Star Cast
In Ferdinand, Ferdinand is voiced by John Cena, and Nina (Julia Saldanha and Lily Day). (Blue Sky Studios/20th Century Fox Film Corporation)
In a period when feel-good, heart-warming films are needed, 20th Century Fox delivered just in time for the holidays with Ferdinand. Inspired by the book, The Story of Ferdinand, by Munro Leaf and Robert Lawson, the film Ferdinand, is out for release on Dec. 15.
Brought to you by Blue Sky Studios and Carlos Saldanha, the director of Rio, the movie centers on one giant creature that is unfairly feared by most. Ferdinand, voiced by John Cena, is an enormous bull with an even bigger heart.
While his family and friends love him, he is mistaken for a dangerous beast and is captured and taken from his home and loved ones. As a result, he is determined to prove to the world that you can't judge a bull by its cover and gathers a team for his adventure to get back home to his family in Spain.
The animated comedy features the voices of John Cena, Kate McKinnon, Anthony Anderson, Bobby Cannavale, Peyton Manning, Gina Rodriguez, Miguel Ángel Silvestre, Gabriel Iglesias, Juanes and more.
It also features music from Nick Jonas and Juanes.
Juanes' song "Lay Your Head on Me" is featured in the film. He says the bilingual song is about helping others when they need it and being able to have people you trust in your life.
Known best for his hit songs, Juanes says the experience of being a part of Ferdinand was exciting because it was something entirely new to him.
"The entire experience intrigued me and caught my attention," he says. "From seeing the characters to recording vocals. The child in me was excited and wanted to try it."
Voicing Juan, the father of Ferdinand's owner Nina, the star says he related to his character, as he too is a father and understands the fine line between wanting to be friends with children and needing to be firm when it's necessary.
The performer saya that although the film is entertaining and fun to watch with the whole family, it's much more than that and carries powerful messages.
"The most powerful lessons in the film are to not judge a book by its cover and to choose love instead of violence to resolve conflicts. We don't need to fight," he states. "He's seen as a scary creature, but he has the ability to change people's misconceptions by showing his heart. The message of the film applies to everyone, children and adults alike, now more than ever, choosing love over violence is momentous."
Catch Ferdinand in theaters and visit foxmovies.com/movies/ferdinand for games and exclusive content.
Video Slider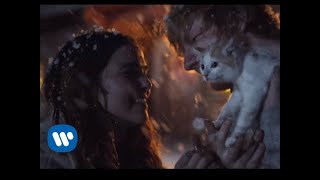 Win Tickets to See Ed Sheeran at the Rose Bowl
Ed Sheeran is back in Los Angeles, and your chance to see him perform is at the Rose Bowl in Pasadena on Saturday, Aug. 18. We are giving away complimentary tickets to the show. For a chance to enter to win, email us at info@lol-la.com with "Ed Sheeran" in the subject line and tell us why you would like to go.