Finn + Emma Delivers Organic Heaven
The Robot Baby Play Mat from Finn + Emma
In need of baby products that are organic/free of chemicals, stylish and won't cost you an arm and a leg? Meet Finn + Emma.
The brand focuses on creating collections that feature fresh prints, modern colors and always have a fun infusion of contemporary, classic and whimsical designs. Whether it be apparel, toys or accessories, the team behind the company places sustainability as one of its top priorities.
Likewise, a huge factor in why consumers should purchase or at least look into the company is the fact that their garments are made with certified organic cotton, non-toxic, eco-friendly dyes and feature lead/nickel free garment snaps. They also feature real coconut inserts.
Impressed yet? Well, there's more.
Babies will have a blast playing with Finn + Emma's wooden toys and hand-knit toys. That's right, your baby will be playing with some pretty fancy toys.
The wood toys are made from untreated Indian hardwood, finished with vegetable seed wax and filled with little beans. Meanwhile, the hand-knit toys are made in Peru by an artisanal women's collective.
Now, while clothes and play things are oodles of fun to shop for, one of the must-have products all parents need is the Baby Play Mat – Robot. The mat retails for $59, but is currently being sold for $47.20 at finnandemma.com/collections/toys-3/products/play-mat-robot?variant=16595325059.
It's made from soft organic cotton and (again) features eco-friendly dyes. Its light padding makes it the perfect changing mat or stroller liner.
Covered with adorable tiny robots and featuring three shades of blue (navy, light blue and teal) it would made the best gift for any occasion. Not only is it convenient and comfy, it also comes with loops to attach play gym toys. It's machine washable, thank goodness, and measures 23" x 24".
And of course, it can be attached to the Baby Play Gyms (another star product from the brand). With more than 20 different themes/designs (sailor, fairytale, jungle, etc) the Play Gym collection ranges from $95 to $135.
The Play Gyms are adjustable to two heights and are free of lead, lead, phthalate, mercury, nickel and VOCs. In fact, each frame is constructed from 100% birchwood.
Let's take the Fairytale Play Gym as an example. The newest product will launch Sept. 1 but can be pre-ordered currently for $135. It features the sweetest little creatures that are sure to make any baby smile. All wooden toys are the gyms are non-toxic and all knit dolls are made with phthalate-free rattles inside.
Parents (or future gift givers) listen up, you can receive 10% off your next purchase by signing up for the Finn and Emma newsletter. It's as easy as entering your email address … that's literally it. To make the deal even sweeter, free shipping is offered for orders $50 and up (contiguous US only).
Drop by finnandemma.com to scope out all of their products and deals.
Video Slider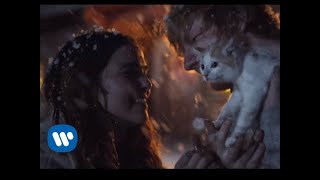 Win Tickets to See Ed Sheeran at the Rose Bowl
Ed Sheeran is back in Los Angeles, and your chance to see him perform is at the Rose Bowl in Pasadena on Saturday, Aug. 18. We are giving away complimentary tickets to the show. For a chance to enter to win, email us at info@lol-la.com with "Ed Sheeran" in the subject line and tell us why you would like to go.