Five Reasons to Love Chris Young
You could put Chris Young in any era, and he would do more than hold his own.
Chris Young is one of the hottest names in country music. Over the last decade, he's amassed many hit singles and has maintained as one of the most recognizable voices in country music. There are many reasons to love the guy, but here are the top five reasons to love Chris Young. 
The Signature Voice – In a time when country music is constantly changing and evolving, you could say Young is the type of artist who would fit into any era. His hit singles have a contemporary sound, but that voice sounds as heavy as Alan Jackson's, and he wouldn't seem out of place covering Johnny Cash or Hank Williams. You could put him in any era, and he would do more than hold his own. 
He's the Hopeless Romantics' Country Star – If you want a country song to dedicate to that special girl, get over a break-up or even pop the question, you'd be hard-pressed to find a better song than a Chris Young song. His most popular songs in Spotify ("I'm Coming Over," "Think of You," "Lonely Eyes" and "Who I Am With You") are each perfect songs for that new, exciting love or, sadly, an old love lost. So next time you're feeling any of those feelings, all you need is a little Chris Young, and you'll be OK. 
He's the Biggest Star From "Nashville Star" – If you're country music junkie you remember "Nashville Star," the country version of "American Idol" on the USA channel that aired in the early 2000s. Well, Young is their most famous winner (Carrie Underwood came in third place in 2003 – who would've known!). He released "Drinkin' Me Lonely" as his first single, and since then, his career has skyrocketed. Since then he's been on an upward trajectory for the past 10 years that has made him one of the most recognizable voices in the genre. 
He's a Philanthropist – Young has shown interest in all sorts of charitable causes. He's supported the arts by donating tens of thousands of dollars to Little Kids Rock –  an organization that helps underserved schoolchildren play music –  and the Nashville School of Arts. He's also donated to St. Jude Children's Hospital, among other helpful charities. There's no denying that helping others is near and dear to his heart. 
He's Crazy About Christmas! – Lots of people like to pull out all the stops once Christmas season comes around. But Young is Big League when it comes to the most wonderful time of the year. He describes himself as "that guy" when it comes to Christmas decorations, adding that last year he put up a 20-foot-tall inflatable Rudolph in his parents' front yard. Also, his It Must Be Christmas album is in stores with guest appearances from Alan Jackson, Brad Paisley and Boyz II Men, and features a lot of the familiar classics. 
For more information, visit chrisyoungcountry.com.
Video Slider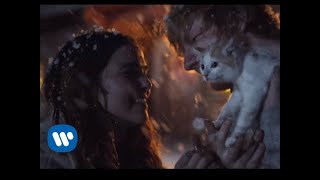 Win Tickets to See Ed Sheeran at the Rose Bowl
Ed Sheeran is back in Los Angeles, and your chance to see him perform is at the Rose Bowl in Pasadena on Saturday, Aug. 18. We are giving away complimentary tickets to the show. For a chance to enter to win, email us at info@lol-la.com with "Ed Sheeran" in the subject line and tell us why you would like to go.