Five Reasons to See "Odysseo" by Cavalia in Camarillo
Treat yourself to the spectacle that is Cavalia's "Odysseo."
Cavalia's White Big Top has risen again in Southern California. This time, the entertainment company brings its hit show "Odysseo" to Camarillo, which is about an hour northwest of Los Angeles before you hit Ventura. Here are five reasons not to make your holidays shine even brighter with a mini road trip to experience the spectacle through Jan. 7, 2018.
Unique Experience – Although "Odysseo" takes place under a big top, make no mistake in thinking this is anything like a circus. The thunder of horses galloping across a field with athletic warriors atop their backs, a gorgeous carousel come to life with acrobatic pole stunts, ethereal and fairy-like maidens standing firmly on horseback – these are all images your senses can feast on at "Odysseo." Cavalia puts on a show like no other, one that you are guaranteed to be talking about for weeks after.
Acrobatics – The stunning tricks that performers are able to do on horseback are simply amazing, so you can only imagine what they can pull off when their feet begin firmly planted on the ground. We say 'begin' because most of the acrobatics in "Odysseo" occur high in the air, as bodies twirl through fabric, maneuver around poles and even vault off one another. The feats you witness are jaw-dropping.
Production – It's not only the acrobatics that take your breath away. From the lighting and costumes to the music and set pieces, every aspect of "Odysseo" is impeccable. With performances by over 110 artists and horses, there are a lot of moving pieces to consider, so a production such as this is no simple achievement.
Holiday Special Offer – Since the holiday season is upon us, the good people at Cavalia have a special offer for families to attend "Odysseo" over Thanksgiving break. Save 30-percent on tickets to the show when you purchase directly through the official Cavalia website. Make memories with your loved ones that will last a lifetime at this unforgettable show.
The Horses – If you aren't an animal lover, you will immediately be converted within the first few scenes of "Odysseo." Amidst the thrilling acrobatics from their human co-stars, it's really the horse performers who steal the show. They are beautiful and majestic as they canter, trot and command the entire Big Top. The connection between horse and human leaves a smile on your face that will last for days.
"Odysseo" runs through Jan. 7, 2018 at 5230 Camino Ruiz, Camarillo 93012. For tickets and more information, visit cavalia.com.
Video Slider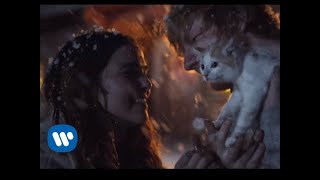 Win Tickets to See Ed Sheeran at the Rose Bowl
Ed Sheeran is back in Los Angeles, and your chance to see him perform is at the Rose Bowl in Pasadena on Saturday, Aug. 18. We are giving away complimentary tickets to the show. For a chance to enter to win, email us at info@lol-la.com with "Ed Sheeran" in the subject line and tell us why you would like to go.