Five Reasons to See Kenny Chesney and Jason Aldean at the Rose Bowl
See big-venue veteran Kenny Chesney along with Jason Aldean at the Rose Bowl July 25.
Country heavyweights Kenny Chesney and Jason Aldean bring their signature sounds to the Rose Bowl July 25. There are about 1,602 good reasons to be there, but don't worry, we've narrowed it down and have come up with the top five reasons to watch these two country music megastars this summer.
5) The Rose Bowl: The venue, which is best known for being the annual host of the football game dubbed "The Grandaddy of Them All," is also a great venue for music. The seemingly endless acres of green landscape that surround the Rose Bowl provide the perfect pre-concert backdrop for an unforgettable night.
4) A Country Concert Is Incredible on a Summer Night: Summer. SoCal. Country music. Denim Shorts. Boots. If you want more you're just plain greedy.
3) Kenny Chesney: Kenny Chesney is a big-venue veteran. You can watch videos of him bringing down the house at massive venues, such as Cowboys Stadium in Texas, or you can make the short trek via the Gold Line to the Rose Bowl and see for yourself. You are sure to see that some guys just have what it takes to play the big venues.
2) Jason Aldean: There are few artists in recent memory in any genre who have enjoyed the run Jason Aldean has been on. His upward trajectory began in 2005 with his self-titled debut album and carried on steadily until 2012, when Night Train became his first album to debut at No. 1 on the Billboard 200 list. Aldean has been riding that hot wave ever since, and last year he enjoyed another No. 1 debut with Old Boots, New Dirt, his sixth album. The only disappointment that can come from watching him live is that his repertoire is so big and so well liked, chances are you might not hear every one of his hits.
1) Because SoCal Loves Country Music: Despite what you may think or hear from your friends, country music is alive and thriving in Southern California. Yes, Tennessee, Georgia and other places in the South and America's Heartland are primarily where country music comes from, but the fact that L.A.-based Go Country 105.1 is among the most listened-to country stations in the United States is enough to indicate Angelenos have a soft spot for country music.
For tickets are more information, visit ticketmaster.com.
Video Slider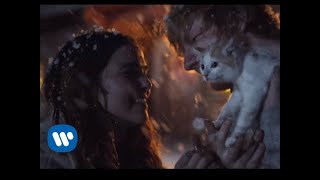 Win Tickets to See Ed Sheeran at the Rose Bowl
Ed Sheeran is back in Los Angeles, and your chance to see him perform is at the Rose Bowl in Pasadena on Saturday, Aug. 18. We are giving away complimentary tickets to the show. For a chance to enter to win, email us at info@lol-la.com with "Ed Sheeran" in the subject line and tell us why you would like to go.