Five Reasons to See Room
Jacob Tremblay and Brie Larson in Room
Room is already making quite the buzz. Rather than giving you a generic rundown, below are five reasons why you should see Room.
It's got an amazingly gripping plot – Based on a novel by Emma Donoghue, the story follows Ma (Brie Larson), a young woman who has been kidnapped and kept in bondage for seven years by a mentally deranged lunatic named Old Nick (Sean Bridgers). Having been raped repeatedly during the earlier period of her stay, Ma is now the proud (but conflicted) mother of Jack (Jacob Tremblay), now a precocious 5-year-old with no conception of the outside world. One fateful day, Ma grows tired of life in captivity and plans a daring escape, the success of which hinges partially upon Jack separating from his mother for the first time.
But it's also not a traditional "thriller" – The film shifts gears at around the hour mark to focus primarily on Ma and Jack as they struggle to adjust to the outside world. Ma's mother (Joan Allen) takes her and Jack in, but finds taking care of the emotionally damaged, codependent pair to be an increasingly burdensome strain. Ma has become testy after her ordeal, while Jack won't trust the "normal" society he has never known. Things are made tenser by the arrival of Ma's estranged father (William H. Macy), who cannot bring himself to connect with a grandson conceived out of rape. Eventually, a connection is found through the influence of Ma's stepdad (Tom McCamus), whose entreaties to the disturbed young woman and her wide-eyed son finally manage to break through the toxic veil of trauma.
The cast gives tremendous performances – Brie Larson, who impressed many critics with 2013's minor Short Term 12, delivers an understated, heart-wrenching turn as Ma, and child thesp Tremblay delivers a a jaw-droppingly mature performance. Both stars are clearly coming into their own.
The director is great – Inventive Irish helmer Lenny Abrahamson (Frank) brings a sly sense of absurdism to what might otherwise veer into melodrama. His plucky, assured filmmaking elevates Room to a whole other level of prestige-pic potential.
It will take you on an emotional journey – Indeed, Room is a wrenching gut-punch of a film not meant for the emotionally faint of heart. That being said, all the agony pays off with overpowering – but understated – catharsis, deftly managed by Donoghue's remarkable adaption of her own book. All in all, it's a must see flick and a surefire awards contender.
Room is in theaters now.
Video Slider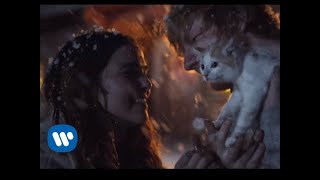 Win Tickets to See Ed Sheeran at the Rose Bowl
Ed Sheeran is back in Los Angeles, and your chance to see him perform is at the Rose Bowl in Pasadena on Saturday, Aug. 18. We are giving away complimentary tickets to the show. For a chance to enter to win, email us at info@lol-la.com with "Ed Sheeran" in the subject line and tell us why you would like to go.