Five Reasons to Visit Knott's Merry Farm
Celebrate the holidays with Snoopy and all the Peanuts at Knott's Merry Farm.
Once the last piece of Thanksgiving turkey has been consumed, the holiday season official begins. Now through Jan. 7, 2018, Knott's is transformed into Knott's Merry Farm, providing Southern California families with plenty of Christmas delights. There is so much to enjoy at Knott's Merry Farm, but here are five specific reasons not to miss the merriment this year.
Snoopy and the Peanuts Gang – While many favor It's the Great Pumpkin, Charlie Brown, one of our favorite Peanuts holiday specials is actually A Charlie Brown Christmas. If you like that movie, then you'll love "A Peanut's Guide to Christmas," the crew's live holiday production at Camp Snoopy Theatre since it's just as heartwarming as the TV special. Plus, the show features delightful mash-ups of holiday songs. What's not to love?
Shows – In addition to "A Peanut's Guide to Christmas," the all of the Peanuts are part of "It's the Merriest Christmas Show Ever, Charlie Brown" at the Calico Mine Stage, as well as the "Merry Christmas, Snoopy" ice show at the Charles M. Schulz Theatre. Other productions happening during Knott's Merry Farm include "A Christmas Carol" and "The Gift of the Magi" at Bird Cage Theatre, an Old West revue at Calico Saloon and the jolly Calico Tree lighting ceremony.
Rides – Merry Farm tickets begin as low as $49, and included with your admission are all of the rides that have made the park an Orange County treasure for decades. From classics like the Timber Mountain Log Ride, Bigfoot Rapids and the Calico Mine Ride to heart-racing coasters such as Silver Bullet, Coast Rider and Xcelerator the Ride, there is something for everyone when it comes to ride attractions.
Seasonal Dining – Some of the best parts of the holiday season are the treats! If you don't have time to make Christmas cookies at home, let the elves at Mrs. Claus' Kitchen do the baking for you. With the purchase of a $5.99 cookie decorating kit, kids can help decorate a delicious cookie to take home and enjoy. After taking a photo with the big guy at Santa's Christmas Cabin, you can indulge in yummy treats like chocolate-dipped cheesecake on a stick, gourmet hot chocolate with marshmallows, spiced wine and, of course, freshly baked cookies.
Snow in SoCal – Every day at sunset, something magical happens in Ghost Town. The buildings and paths along Main Street and School House Road become filled with glow and snow. Thousands of sparkling lights twinkle in time with Christmas music as snow surrounds park-goers. It's an experience the entire family is sure to remember for years to come.
For tickets and more information, visit knotts.com/play/merry-farm.
Video Slider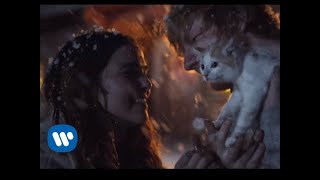 Win Tickets to See Ed Sheeran at the Rose Bowl
Ed Sheeran is back in Los Angeles, and your chance to see him perform is at the Rose Bowl in Pasadena on Saturday, Aug. 18. We are giving away complimentary tickets to the show. For a chance to enter to win, email us at info@lol-la.com with "Ed Sheeran" in the subject line and tell us why you would like to go.