Five Reasons to Visit L.A. Zoo Lights
Bask in the glow of L.A. Zoo Lights over the holidays.
Christmas in Los Angeles is different, but, in its own way, it's just as captivating as spending the holidays anywhere else (East Coast transplants, spare me the details of you're over-romanticized blizzards.). Angelenos can still hang out outdoors at 9 p.m. in December, and we embrace the hell out of that (Food trucks? Beer gardens? Yes, please). Nowhere in the city is that more clear than at the LA Zoo Lights every holiday season. The LA Zoo Lights provide Angelenos with the ultimate LA experience. There are tons of reasons to come out to the LA Zoo Lights this holiday season, but here are the top five reasons to visit L.A. Zoo Lights.

An LA Christmas Experience – While the majority of the country lies somewhere in between sweater weather and snow blizzards, Los Angeles pretty much always rides out the holidays smooth. L.A. Zoo lights are the embodiment of the L.A. Christmas experience because you can wear board shorts or skirts while listening to live groups singing Christmas carols. Sure, the Christmas carols they're singing about are all about snowy winters, but we all know Los Angeles is where it's at. Maybe it's time for an L.A.-style Christmas carol. Snoop, do your thing.
For the 'Gram – No one will admit it, but during the holidays, everyone wants the best social media pictures. Well, at L.A. Zoo Lights there's an abundance of places to take that dope Snap or IG post that's so good, it'll make your followers want to come the following weekend. 
Adulting – Just like during the day, you still see families with kids at L.A. Zoo Lights. But in the evenings, it gets a little grown-up, as they have adult beverage options at some of the snack bars. I'm by no means condoning irresponsible behavior. I'm just saying, an IPA before a 45-minute walk is better than no IPA before a 45-minute walk. Be responsible.
A Great Family Atmosphere – Although there are fun things for adults at L.A. Zoo Lights, the zoo, at the end of the day, is for the kids. And L.A. Zoo Lights are no different. It's the ultimate family experience because you can take the kids to great attractions without breaking the bank.
The Snacks – The snacks are delectable! Normally at venues like these you expect stadium-quality food at exorbitant prices, but this is the opposite. The snack bars – as well as many stands selling churros, kettle corn, nachos and the like – are all top-notch and affordable.
L.A. Zoo lights runs from 6 p.m. to 10 p.m. through Jan. 7, 2018. For more information, visit lazoolights.org.
Video Slider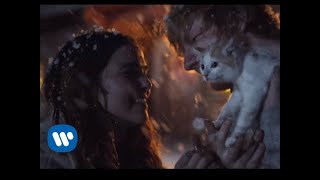 Win Tickets to See Ed Sheeran at the Rose Bowl
Ed Sheeran is back in Los Angeles, and your chance to see him perform is at the Rose Bowl in Pasadena on Saturday, Aug. 18. We are giving away complimentary tickets to the show. For a chance to enter to win, email us at info@lol-la.com with "Ed Sheeran" in the subject line and tell us why you would like to go.