Five Reasons to Visit OUE Skyspace Los Angeles
Take in stunning sunsets at OUE Skyspace Los Angeles.
Los Angeles is known for its glittering lights, iconic landmarks and beautiful weather. It's hard to imagine the City of Angels could get any better, but now it can.
Located on the 69th and 70th floors of the U.S. Bank Tower is OUE Skyspace LA. Nearly 1,000 feet above downtown, it's the tallest open-air observation deck in California and gives guests a complete view of the city.
The Skyspace is actually divided into three different sections, each more exciting than the next. Open seven days a week from 10 a.m. to 10 p.m., get a new glimpse of L.A. with OUE Skyspace and book your visit now at oue-skyspace.com.
Below are just a few reasons as to why you should drop by the hot spot.
Sights: The top reason to visit OUE Skyspace L.A. is for the breathtaking views offered. From the mountains to the ocean, attendees will be in awe once they step onto the decks. Want to see Dodger Stadium, the Hollywood Sign, the Wilshire Corridor and as far as Santa Monica Beach? No problem! The Hollywood Observation Deck will have you feeling ecstatic. If that's not your scene, the Skyslide Terrace is in view of L.A.X., the L.A. Coliseum, Staples Center, Long Beach Queen Mary and Catalina Island.
Skyslide: Feeling brave? The outdoor glass slide is a major thrill (except perhaps to those with a fear of heights). Made entirely of clear, 1 ¼ inches thick glass and measuring 45 feet long, the slide takes guests from the 70th floor to the 69th floor all while featuring the city views in all their glory. Tickets for the slide are not included with general admission tickets and must be purchased separately.
Location: Downtown never sleeps, why should you? Drop by OUE Skyspace L.A. and make additional plans while you're there. You've taken in the sights, why not do some shopping or eating, too?
Take A Spin: …With the 360-degree video wall which displays the unique landscapes that make up the city (on a loop). Located on the 54th floor is also an infinity mirror, which is mounted onto the floor, giving the illusion of looking down onto the street.
Price: Sure, you can drive to the beach to look at the sunset. But why wouldn't you opt for a location that gives you a full panoramic view of the city you love? It's literally picture-perfect. For as low as $19-$25, daily timed admission tickets are available at oue-skyspace.com. Prices for the slide and various packages are also listed online.
Video Slider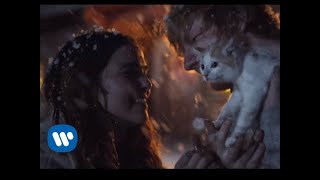 Win Tickets to See Ed Sheeran at the Rose Bowl
Ed Sheeran is back in Los Angeles, and your chance to see him perform is at the Rose Bowl in Pasadena on Saturday, Aug. 18. We are giving away complimentary tickets to the show. For a chance to enter to win, email us at info@lol-la.com with "Ed Sheeran" in the subject line and tell us why you would like to go.