Five Reasons Why We Loved Jill Scott at the Hollywood Bowl
Jill Scott (Courtesy Photo)
This has been a great summer at the Hollywood Bowl. From Tony Bennett to Phoenix to Blondie to Tchaikovsky, there has been something for everyone at this fabulous venue, and on Wednesday, August 16 the Hollywood Bowl had one of the best nights of the season. Jill Scott made her Hollywood Bowl debut "with her powerful mix of sensual R&B, jazz, hip hop and spoken word."
It was a night to remember for everyone in attendance, as the crowd sang along and danced through her entire set. The show was full of lots of great moments, but here are the top five reasons we loved Jill Scott at the Hollywood Bowl.
Her Connection to Fans
Jill Scott has an attitude and swagger to her that is infectious at her live events, and she definitely brought that same attitude Wednesday night in front of a sold-out crowd at the Bowl. For nearly 90 minutes she touched fans with her incredible voice and beautiful poetry.
Her Incredible Voice
Since her career took off in 2000, Jill Scott has been one of the most liked and respected vocalists in all of music. Even a massive outdoor venue is no match for her singing "A Long Walk," "He Loves Me" and "Can't Wait."
She Has That It Factor
There are many great vocalists currently doing their thing, but Jill Scott has a unique swagger and star quality that makes her the total package among her peers. From her confidence to her wardrobe, you know you're in the presence of a star when you see her walk on stage.
Adele Was There!
Talk about an endorsement. Adele, a record-breaking once-on-a-generation type of singer, loves Jill Scott. It didn't matter that people in her vicinity realized it was really her and then freaked out. She sang along with Scott like any other fan girl. Seeing her in the crowd makes you think how wonderful a tour with them together would be and why it needs to happen now!
Robert Glasper Experiment
Robert Glasper, a four-time Grammy winning pianist and producer, was the perfect match for Scott in this wonderful venue. With songs like "Gonna Be Alright" and "Cherish The Day," as well as arguably the best cover of Nirvana's "Smells Like Teen Spirit," the Houston, Texas native's moody melodies were the perfect set-up for Jill Scott.
Video Slider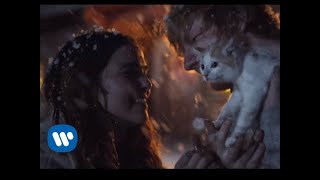 Win Tickets to See Ed Sheeran at the Rose Bowl
Ed Sheeran is back in Los Angeles, and your chance to see him perform is at the Rose Bowl in Pasadena on Saturday, Aug. 18. We are giving away complimentary tickets to the show. For a chance to enter to win, email us at info@lol-la.com with "Ed Sheeran" in the subject line and tell us why you would like to go.