Flower Eyewear Keeps You Looking Lovely
Flower's Sheila sunglasses
Branching out from her beauty collection, the ever so talented Drew Barrymore has launched her own line of eyewear. Having earned success with her Flower Beauty line, Barrymore is once again proving that you don't need to spend hundreds of dollars to look or feel confident.
In case you've been living under a rock, the actress/director/producer/author/coolest A-lister around has been making people feel beautiful for years. Flower Beauty first sprouted its roots at Walmart stores, and over the last year has grown and expanded to be sold at other locations.
With a promise of "prestige at mass," Flower Eyewear has launched and is offering a selection of 36 prescription and sun frames at Walmart Vision Centers, to be specific, at over 2,750 centers across the US. Whether you need optical, sun or reading glasses, you'll absolutely find what you're looking for.
From cute and flirty, to chic and modern, Barrymore has designed glasses for every girl and every look. One must-have pair of glasses are the Sheila sunglasses, which feature a black-and-gold frame, and are the perfect pick me up for everyday glam. Retailing at only $39, the glasses are not just pretty, they're sturdy and well made.
Despite an affordable price, Flower Eyewear provides consumers with items that are top quality and don't feel like filmy/cheap items. In fact, the prices all vary and are suitable to any budget.
While some may not be fans of celeb-backed lines (be it clothing, cosmetics, fragrance, etc.), the Flower brand (in general) is one that stands fully behind their products and constantly puts the needs/ants of their customers as the top priority.
If you're interested in trying on some frames, the website lets you look up where you can find the glasses.
The collections are sold exclusively at Walmart Optical Centers but can be viewed at flowereyewear.com.
Video Slider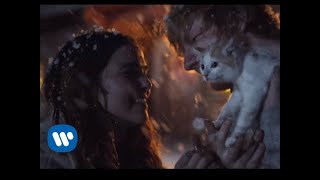 Win Tickets to See Ed Sheeran at the Rose Bowl
Ed Sheeran is back in Los Angeles, and your chance to see him perform is at the Rose Bowl in Pasadena on Saturday, Aug. 18. We are giving away complimentary tickets to the show. For a chance to enter to win, email us at info@lol-la.com with "Ed Sheeran" in the subject line and tell us why you would like to go.