The Foreigner: Jackie Chan Talks Being an Icon and Breaking Out of Hollywood Typecasting
Jackie Chan as Quan in The Foreigner (STX Financing, LLC.)
Legendary action star Jackie Chan recently sat down with L.A. press to promote his new film, The Foreigner. During the discussion, he shared his excitement to be a part of the project, which is more of a thriller. He plays a humble London businessman named Quan, whose tragic past triggers a rage-fueled quest for revenge when he loses the only person left in his life, his teen daughter, in an attack. Working with director Martin Campbell (Casino Royale) Chan was excited to jump into a character who didn't just come with his usual set of martial arts skills, which, at first, didn't come naturally for him.
"On the set, the director asked me, 'Jackie, move slowly. You are not 'Jackie Chan.' You are Quan.' Sometimes when I'd turn around and move things, he'd say, 'Jackie, too quick. Slow down.' He made me so old." he laughed about playing a dad who wasn't a martial arts master, "Even the fighting, BOOM – but breathe. That's what makes the movie works."
In the film, he goes on a more narrative journey. Co-starring Pierce Brosnan as a British government official, the duo search for the terrorists behind the killings in the film's cat-and-mouse games.
On what attracted him to this film over what he usually is known for Chan shares, "I'd been playing my career so long. As I looked at the history, an action star's life is very short. I want to be an actor. The audience always treats me as a comedy-action-star. But the last 20 years, my fans in Asia are slowly accepting it. 'Wow, Jackie is an actor, not an action star!' But in Hollywood, I receive so many scripts: police from Hong Kong, police from China, secret police from Hong Kong, secret police from China. I always look at so many American movies. I say, 'That's suitable for me! But why nobody hire me to do these kinds of movies?!' Not like La La Land, but kind of like La La Land. I said, 'Yes! Why not me?!'"
Getting acclaim for his work as an actor and filmmaker has transformed Chan over the years. He now looks at success very differently, having started out wanting to make something to get him that Oscar early on but then leaning into what fulfilled him creatively instead leading him to his trajectory as one of the industry's most iconic figures.
"Making a movie is like gambling. I just follow my dream and do the best I can. Every movie I make enriched my life. I never thought I'd win something," he elaborates. "In the old days, I'd try to come to Oscar, so many years. Then I gave up. Then now, they came to me. I learned when you do something don't aim for something. I want to get Oscar, I want to get this. It ends up you get nothing. If you make a good movie, the result is you get so many things. They come to you. You don't have to find them." Chan was recently awarded an honorary Oscar after 56 years in entertainment.
Looking back, he says his experiences have helped him see how to evolve as a humanitarian, and in that, he holds a lot of hope for the future, not just in progress within entertainment but progress within civilization.
"All those years, [it was] like I had to make something correct. Like when I made Drunken Master, people saw drinking and fighting. When I look back at the movie ,I thought why did I give people drinking and fighting. So Drunken Master 2, I corrected myself: Don't drink and fight."
He explains how that ties into how everyone's individual journey can impact the world.
"All those years, I traveled around the world I see so many things. Things I don't like. What should I do? I'm a filmmaker. A few years back, I went to the Middle East and saw so much war so I made a movie called Dragon Blade. It's about peace and being united. Like the terror attacks going on in the whole world, the natural disasters, the tornadoes and tsunami, everything that happens – why do humans create disasters? It truly moves me, and I hope we can stop these kind of things – every country, every city, the whole world."
The Foreigner is now in theaters.
Marvin Vasquez contributed to this story.
Video Slider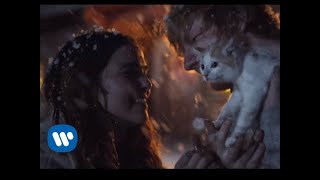 Win Tickets to See Ed Sheeran at the Rose Bowl
Ed Sheeran is back in Los Angeles, and your chance to see him perform is at the Rose Bowl in Pasadena on Saturday, Aug. 18. We are giving away complimentary tickets to the show. For a chance to enter to win, email us at info@lol-la.com with "Ed Sheeran" in the subject line and tell us why you would like to go.