Gastro Garage Blazes into Hollywood
The Gastro Garage pop-up fires up decadent dishes. (David Tobin/LOL-LA)
A pop-up of one of the hottest food options in town is here. And when I say hot, I mean it. All of the meals at Gastro Garage are cooked via propane blowtorch!
This innovative style was brought to life three years ago by Adam Manacker, James Campbell and Stewart Levine, who has worked alongside innovators such as José Andrés and Wolfgang Puck. In their past hospitality positions, they saw the way food transformed experiences and became something more than a thing to keep you from being hungry.
Taking its roots in the gritty side of life and spending time in random garages on road trips growing up, the Gastro Garage was born. Menu items range from a deconstructed Piston Pizza to the savory Cubano Tank. Each ingredient is blasted with pure fire and left to cool only for a moment before being added to the additional items that complete the meal.
For dessert, we had both the S'mores and Princess Buttercup. They are messy, filled with chocolate and taste absolutely amazing. It's one of the best ways to end a meal because you get to play with your food. Actually, most of the food at Gastro Garage requires you to play with your meal.
For those of you that are die-hard foodies, here's what was on the menu in detail: a savory Filly Tank with aged sharp white cheddar foam, torched New York strip, onion puree and truffle salt; the Cubano Tank with Gruyere foam, torched 12-hour slow-roasted pork, applewood smoked ham, mustard caviar and dill plank; the Campfire Tank, which is a fun take on traditional S'Mores. The mechanics also rolled out a brand new "drill bit" menu, where huge skewers of marinated specials like Korean short ribs, teriyaki salmon and butter-poached scallops were torched on giant industrial drills. In addition, the sides menu included torched Maple Glazed Carrot Pops with maple gravy foam.
The Gastro Garage pop-up is only around for a few more weeks, so be sure to get a reservation while they still last to be able to catch it. Eventually, there will be a restaurant in downtown Los Angeles, but that may not come about for close to a year.
So get your friends, embrace the rock 'n' roll and be ready to get fired up at one of the most original and tasty events in Los Angeles this winter!
Gastro Garage runs Thursdays through Saturdays until Feb. 11 at the corner of Sunset Blvd. and La Brea Ave. For tickets and information, visit thegastrogarage.com.
Video Slider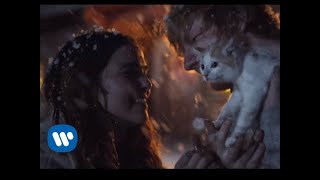 Win Tickets to See Ed Sheeran at the Rose Bowl
Ed Sheeran is back in Los Angeles, and your chance to see him perform is at the Rose Bowl in Pasadena on Saturday, Aug. 18. We are giving away complimentary tickets to the show. For a chance to enter to win, email us at info@lol-la.com with "Ed Sheeran" in the subject line and tell us why you would like to go.