Gerard Butler Dishes About Den of Thieves
Gerard Butler stars in Den of Thieves. (STXfilms)
Gerard Butler may be a major action star and both the top-billed actor and producer of Den of Thieves, but according to his co-star Curtis '50 Cent' Jackson, "This is my movie. I almost broke my leg, so it has to be mine."
Jackson jokes about stealing the spotlight from Butler several times but still lavishes praise on the London Has Fallen star.
"I'm overwhelmed with the love Gerard Butler showed me. The guy's amazing, and we need more people like him in the world."
Den of Thieves stars Butler, 50 Cent, O'Shea Jackson Jr. (the star of Straight Outta Compton and the son of the film's subject, Ice Cube) and Pablo Schreiber (Pornstache from "Orange is the New Black") as members of two teams on the opposite side of the law. Butler plays the hard-bitten LAPD detective and Schreiber the ex-convict with special forces training who plans to pull off a heist at the L.A. branch of the Federal Reserve. The film, which heavily recalls the 'two sides of the same coin' duality that the similar L.A. heist movie Heat did during the '90s, is a morally ambiguous action film where neither side is black nor white.
It is that depiction of the costs of police life that appealed primarily to Butler and made him want to produce the film.
"One of the things that I liked about the movie was that it was a smart, complex heist movie that was compelling and had a lot of action. As you spend time with the characters and get to know them and see how bruised and ravaged they are by their lifestyle and how it affects them and their families, it turns the cliches on their head, and you see the final cost. Ultimately you're the good guys who try to bring down the bad guys, but sometimes they're acting like naughty boys along the way. It's a troubling world they live in, and that's one of the things that's different about the movie."
Butler ultimately likens the characters in the film to soldiers during a time of war.
"It's like an old-school war movie, where they're all soldiers on the battlefield, but at the end of the day they came from the same village," he explains. "They all knew each other growing up and aren't really that different, except for that small amount that caused them to take opposite sides."
In keeping with most of Butler's roles – except, perhaps, Phantom of the Opera – Den of Thieves is an unabashedly macho film, even by the action star's standards.
"This was the most masculine cast I'd been in since 300," the actor exclaims in reference to his co-stars, "I mean look at these guys! We spent a lot of time bonding, going paintballing and taking trips to the mountains, and we came away fantastic friends."
As such a masculine film, Den of Thieves seems a bit of a throwback, particularly with the push in Hollywood for equality in storytelling, and both Butler and director Christian Gudegast attempt to grapple with how they might make the film differently considering the rapid change in gender politics in Hollywood over the past several months.
Gudegast jokes, "I would replace 50 Cent with Taraji P. Henson," but Butler maintains that the story would remain as is.
"The movie was based on a combination of true stories, and while the women in the film like my character's daughters are amazing, that's just how the story was. I wouldn't change a thing."
In Den of Thieves, Butler plays an undercover officer who both creates and experiences outrageous situations during his work and home life, and he explains that some of his character is drawn from what he learned from the LAPD officers who helped him prepare for the movie.
"I hung out with a few cops who gave me a lot of back story and was schooled in the world these guys live in. You have to understand the reality of what it's like to go undercover and to live in that stress that at any moment if there's one slip you're a dead man. You have cops that understand that you have to out-violence and out-fox the enemy, and in terms of the dramatic narrative of the movie, it allows us to be full of surprises. My character is on the verge of going out of control, and there are consequences to that. He thinks and acts impulsively, and we played with that, and you never know where that's going to take you."
One of these moments in the film is when Butler's character kidnaps and tortures a suspect played by O'Shea Jackson, Jr. in order to extract a confession. Referring to his earlier role in Straight Outta Compton, Jackson muses that a pattern seems to be emerging.
"I'm at the beginning of my acting career, and I seem to have a theme of being abused by Los Angeles police officers. I let Gerard know this, and we made it work. He didn't really want to be choking me in the hotel room, but I let him know I'm a pro wrestling fan and know how to get a choke-hold off."
"O'Shea Jackson, Jr. was in no danger!" Butler interjects. "It was the first day and a very intimidating scene, and it got cruel at times when everyone was giving him a slap and I was choking him out, but while it started out serious, he took it so well that there were times when by jaw would drop about the brilliance of his performance. I kept thinking I was going to far, but he never complained. That's when I said that this kid is a genius. In between takes, he'd just keep talking to himself!"
"Sometimes Shea has to talk to O'Shea Jackson Jr. when he's getting choked so he doesn't go crazy," the actor jokes about himself. "I'm sorry, but I had a great time!"
Den of Thieves is now in theaters. 
Video Slider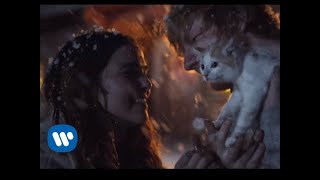 Win Tickets to See Ed Sheeran at the Rose Bowl
Ed Sheeran is back in Los Angeles, and your chance to see him perform is at the Rose Bowl in Pasadena on Saturday, Aug. 18. We are giving away complimentary tickets to the show. For a chance to enter to win, email us at info@lol-la.com with "Ed Sheeran" in the subject line and tell us why you would like to go.