Get to Know Justice League's Ray Fisher
Ray Fisher as Cyborg in Justice League (Warner Bros.)
Unless one saw Ray Fisher play Muhammed Ali in an off-Broadway production that brought him to the attention of Hollywood, his role as Cyborg in Justice League is the first encounter audiences will have with the actor, whose experience outside the DC Comics Universe is limited to a single episode of "The Astronaut Wives Club." In the film, Fisher plays Victor Stone, a high-achiever who is rebuilt into a half-human, half-mechanized hybrid thanks to his scientist father employing alien technology, but Fisher self-deprecatingly notes that he has little in common with his character.
"I'm not a genius, and I don't play football," he shares, but he still could find a connection to the superhero. "Cyborg grew up with a father who had no interest in him outside of an academic context, while I grew up as the second of five kids in a single mother household, and my father was never in the picture. I felt like that was an anchor with the character and a good grounding point for myself as well."
Fisher approached Cyborg as a tragic figure, having lost those around him and essentially himself as well.
"It's a lot for an individual to lose your body and the way of life you once knew through no fault of your own," Fisher muses. "The world seems completely unfair to this character, and you have to ask just how much one person can bear and still have the courage to do the right thing. Wrapping my head around that idea was tough, but it was good because once you're done portraying it, you can shake it off and let that thing go."
Despite the demands that Hollywood requires to play a superhero, Fisher was never the typical candidate to play a role as physically demanding as this one.
"I have always liked physical challenges and have since I was kid, but I have asthma, and growing up, wasn't able to do organized sports in that way. As I got older, I began running to keep the asthma at bay, so I challenged myself to run every day to build up my stamina. But this film was outside of anything I had ever done. I played Muhammed Ali in a play a few years ago and got in pretty good shape for that on my own, but our trainers on the film had me on a crazy diet and workout regimen. It was one of the most difficult things one could do, but eventually, you get acclimated to it and addicted to the endorphins from the workout."
That sense of striving is a further parallel between Fisher and his character, and the actor hopes that this quality comes across.
"I'd love for people to take away the idea of resilience, that terrible things can happen, and you can still do the right thing at the end of the day. It would have been very easy for Cyborg to become a supervillain instead, and anyone would have been able to understand that choice, but ultimately good wins out."
Justice League is now in theaters.
Video Slider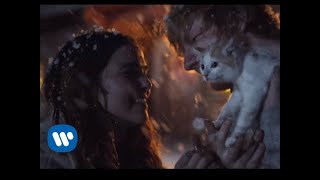 Win Tickets to See Ed Sheeran at the Rose Bowl
Ed Sheeran is back in Los Angeles, and your chance to see him perform is at the Rose Bowl in Pasadena on Saturday, Aug. 18. We are giving away complimentary tickets to the show. For a chance to enter to win, email us at info@lol-la.com with "Ed Sheeran" in the subject line and tell us why you would like to go.