Get to Know the Stars of "Sangre de Mi Tierra," Ana Belena and Lambda Garcia
Ana Belena and Lambda Garcia in "Sangre de Mi Tierra"
Premiering on Telemundo, the latest telenovela, "Sangre de Mi Tierra," brings the story of two complex and intense families who run wineries in Napa to the small screen. Their feuds stem from a tragic moment in which their lifelong friendships get put to the test after an accident leaves one family member dead and everyone around them in intense circumstances and bad blood.
We recently chatted with "Sangre de Mi Tierra" stars Ana Belena and Lambda Garcia about the show and their characters.
To Belena, the show captures thrilling primetime television while giving it an American twist by taking place in Napa.
"There are two families who have a longtime friendship. After an accident where [her character, Aurora] loses her brother, that friendship is broken and we become enemies to the other family. From that, all these characters within the stories have distinct things happening to them. It's interesting to see this family go through real-life problems. [It] shows how people learn from pain when life throws you punches," she says.
Lambda Garcia plays Juanjo, who pines for Aurora, and talks about his role of being the tragic character who made a careless mistake that brought both families so much pain.
"I play the eldest son of Paco, who's the patriarch of my family. He's the eldest and rebellious, irreverent. He's the son who doesn't have the inclination to work really. Aurora was his friend and sweetheart – they grew up together – but things change," the actor shares. "He kills her brother, leading to a drastic change in their relationship. He goes to jail, leading to a maturity that when he gets out meets his match in an Aurora who is much more mature but also married to someone else. He has to be more responsible and working to make up for what he did for the rest of his life. He wants to demonstrate that he wants to be with her for the rest of his life. I think that the part of me that's like him is my extroverted side and sense of humor. I talk a lot and express myself fully. That's me, but I added a bit of that to Juanjo. He's rebellious, yes, but you like him because he tells jokes and tries to have a good time."
"Each character is interesting. Here, you have a character who was in love with someone for many years. That shows in how you react around your family when they come back," adds Belena about the show, and when talking about her character, enthusiastically describes Aurora as, "Independent and someone who doesn't support women being marginalized. She like things to be equal. She loves being a woman with attitude."
Garcia adds, "What's great about this show is that it's a family show with the dynamics that families currently have like lack of communication, love woes, people who come into your life when you have a significant other, a woman who lives in a traditional household and how she is the woman of the man of the house. Generations in these families confront these things."
"Sangre de Mi Tierra" premieres this week on Telemundo.
Video Slider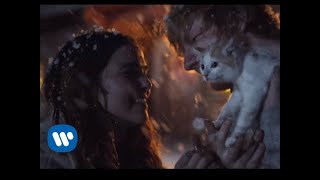 Win Tickets to See Ed Sheeran at the Rose Bowl
Ed Sheeran is back in Los Angeles, and your chance to see him perform is at the Rose Bowl in Pasadena on Saturday, Aug. 18. We are giving away complimentary tickets to the show. For a chance to enter to win, email us at info@lol-la.com with "Ed Sheeran" in the subject line and tell us why you would like to go.