Getting to Know LA's Union Station
The historic Los Angeles Union Station celebrated its 75th anniversary last Saturday- the same day as Amtrak's National Train Day celebration.
Union Station is not only one of the last great train stations in the United States, but is one of the widely known and treasured landmarks in LA and officials spared no expense to make that point well known.
Native Angelenos and visitors from all over the southland converged to the iconic station for a day of live music and entertainment all under the warm California sun.
The day began with a re-dedication ceremony at the stations Old Ticket Concourse along with a musical performance by Mariachi Reyna de Los Angeles, an all female mariachi group whose unique style perfectly showcased the thriving Latino community of Olvera Street, which is walking distance from Union Station.
The event had four stages, each one hosting a wide array of artists from DJ Rani De Leon, Latin folk group Las Cafeteras, Dr. Pinch & the Pinchtones whose vintage 1940s jazz sound got the crowd dancing and complimented the folks dressed in their finest 40s attire.
There were plenty of great activities for children in the Chuggington Kids Depot, based on the popular television series, kids could learn about proper train safety, as well as play with elaborate miniature railroads complete with intricate model trains.
There were incredible antique train cars on display including one built in 1927 as well as volunteer guides throughout Union Station to explain the art, architecture and other embellishments throughout the celebrated train depot.
The Annenberg Foundation booth handed out free TAP card loaded with round-trip fares on the Metro Rail to guest, which gave them a chance to ride the rails and check out other nearby cultural locales like Chinatown, Little Tokyo and Mariachi Plaza.
Built in 1939, during a turning point in a city that began to rely on automobiles instead of trains, Union Station remains a staple in the Los Angeles way of life, serving almost 60,000 traveler and commuters.
The facility is due to undergo a makeover in fall of this year that will celebrate the site's history while securing its legacy into the future.
Here's to another 75 years.
Evan Solano contributed to this story.
Video Slider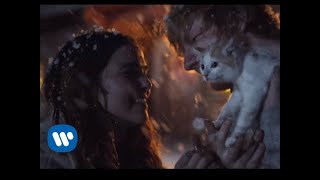 Win Tickets to See Ed Sheeran at the Rose Bowl
Ed Sheeran is back in Los Angeles, and your chance to see him perform is at the Rose Bowl in Pasadena on Saturday, Aug. 18. We are giving away complimentary tickets to the show. For a chance to enter to win, email us at info@lol-la.com with "Ed Sheeran" in the subject line and tell us why you would like to go.