Gloria Alejandra GuzmánTrevi vs. Comes to STAPLES Center June 3 and 4
Alejandra Guzmán and Gloria Trevi during a press conference on Thursday, May 25, 2017 at STAPLES Center. (Marvin Vasquez / LOL-LA)
In early 2016, Gloria Trevi experienced an epiphany. And it was then that she immediately thought of reaching out to Alejandra Guzmán.
After learning of the colossal tragedy of the Orlando, Fla. gay nightclub, named Pulse, shooting on June 16, 2016, where a near 50 people died and many others were injured, Trevi e-mailed Guzmán about uniting. The club was hosting a "Latin night" that night.
"That hurt me a lot; it touched me a lot," says Trevi. "That in this world there is such violence, such discrimination and no unity."
Uniting? Yes. A tour to not only support unity, but also for their super loyal fans from the LGBT community. Over the years, both Latin pop and Latin rock music singers have earned much respect and loyalty from them.
"Thanks for letting me do this tour with you," says Guzmán, as she directly looks at Trevi. "This is something that always came to mind, but it just had not been the right time in those moments. This is our best moment. It's good to fight for Latin pop and rock. And here we are."
The Orlando, Fla. terrorist attack / hate crime motivated Trevi. And even though it took about eight months for Guzmán to reply, the "Versus Tour" that takes off on Saturday, June 3 and Sunday, June 4 at STAPLES Center and continues thereafter in several cities throughout the U.S.
"I saw her e-mail and as soon as I saw it, I called her and asked, 'what's up?" recalls Guzmán. "I thought it was a great idea for us to unite and do this, especially now with everything that's going on." She also confirmed that there is an album in the making.
"Yeah, it took a near eight months for me to get a response," Trevi says as Guzmán laughs. "So we immediately spoke about uniting and doing a tour together."
Gloria Trevi vs. Alejandra Guzmán shows promise a lot. For starters, according to Guzmán herself, both singers will sing songs from each other.
Trevi's hit tracks are "Zapatos Viejos", "Todos Me Miran", "Cinco Minutos" and "Pelo Suelto", among many others.
Guzmán, on the other hand, sports the likes of "Eternamente Bella", "Hacer el Amor con Otro", "Mala Hierba", and "Reina de Corazones", among others.
Gloria Trevi vs. Alejandra Guzmán takes place Saturday, June 3 and Sunday, 4 at STAPLES Center in downtown Los Angeles. For more information or to purchase tickets, visit AXS.com.
Video Slider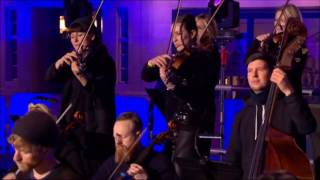 Win Tickets to See Pete Tong at Hollywood Bowl
Pete Tong is back in Los Angeles, and your chance to see him perform is at Hollywood Bowl on Thursday, Nov. 9. We are giving away complimentary tickets to the show. For a chance to enter to win, email us at info@lol-la.com with "Pete Tong" in the subject line and tell us why you would like to go.